Bringing your boat from the sea
Many people choose to visit the Broads from overseas or other parts of the UK every year.
If you're planning to do this, you can access this magical waterland from Great Yarmouth or Lowestoft.
Great Yarmouth
Boats are advised to enter on slack, low water and not get in the way of large ships.
All yachts entering or leaving should contact Port Operations on VHF Channel 12 with call sign 'Yarmouth Radio'. Keep to the starboard side of the channel unless advised otherwise.
Port traffic signals are on the end of Gorleston Pier. Entry to the Outer Harbour is strictly prohibited.

Small vessels should not anchor in the port area except in an emergency. Moorings are on Hall Quay, south of Haven Bridge, on the east side.
For full Port information please visit the Peel Ports website.

Both Haven and Breydon Bridge lift to give access from Great Yarmouth to Norwich or Oulton Broad. Bookings can be made through Port Operations. Vessels which cannot lower mast will not be able to access the northern rivers owing to low bridges.
Lowestoft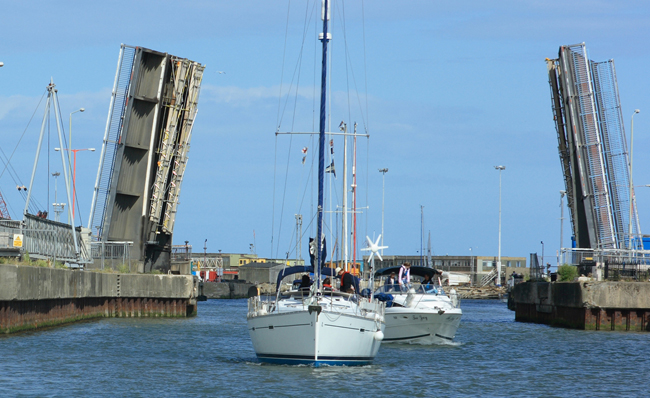 Bridges between Lowestoft and Oulton Broad will open so there are no problems for tall masts, although to access the Broads you need to transit Mutford Lock. Tel: 01502 531778.
Whether entering or leaving the harbour, please radio Port Control on VHF Channel 14. When International Port Traffic signals on South Pier show red outside the harbour it is prohibited to enter. When they are red inside the yacht basin it is prohibited to leave.
The Bascule Bridge opens for small craft at set times. Pleasure craft must make arrangements with Port Control to use a bridge opening intended for commercial traffic.
Tolls
If you are coming to the Broads for a short stay – or even for a day – you will need a short visit toll. Every vessel kept in the Broads area for more than 28 days must be registered with the Broads Authority. Registration is free.
Insurance
Visiting vessels require third party insurance with a minimum cover of £2 million except unpowered craft with a block area less than 6m2. You will be asked to sign an insurance declaration when buying your short visit toll.
Safety
If you are visiting the Broads it is important to remember safety is important. We have safety information to ensure you and your crew stay safe!
Popular in Owning a boat
You might also like