Water, Mills & Marshes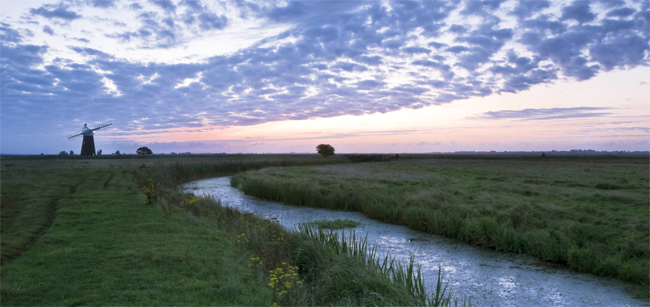 We have partnered up with a range of stakeholders to develop and implement a multi-million pound project to enrich, protect and help people make the most of unique heritage sites and landscapes.
Water, Mills and Marshes: the Broads Landscape Partnership will work to further conserve and enhance the built and natural heritage of the area between Norwich, Great Yarmouth, Lowestoft, Acle and Loddon following the course of the rivers Yare, Bure and Waveney. This is the latest Landscape Partnership area map.
Aims and objectives
The project will identify opportunities to document and repair iconic drainage mills on Halvergate marshes, an area which boasts one of the greatest concentration of such mills in Europe, explore potential archaeological sites and provide training to maintain heritage skills.

It also aims to improve local people's access to, and understanding of, activities within their landscape and will engage their help in telling the story of Halvergate's watery landscape from past to present.

The delivery of the Scheme is split into six programmes. You can find out more in the full summary of programme aims and objectives and on the Water, Mills and Marshes website.
Wild Watch
The Water, Mills and Marshes Wild Watch scheme allows members of the public to loan a trail camera at no cost to capture amazing photographs and footage of wildlife that lives in or visits their garden, green area or wild patch.
To book a camera, please visit the Water, Mills and Marshes booking page.
Lottery funding bid
The Broads Landscape Partnership has received a confirmed National Lottery grant of £2,437,500 from the Heritage Lottery Fund (HLF) through its Landscape Partnership programme for the Water, Mills and Marshes project. When added to match funding this means have a total budget of around £4m for 38 projects that be delivered over a five-year period. The projects will not only help identify, preserve and improve the incredible heritage, environmental and archaeological assets within the Broads, they will provide opportunities for people to learn about them, contribute in practical ways to their upkeep and ensure access for future generations.
Water, Mills and Marshes will provide countless opportunities for thousands of people to connect with the unique landscape by deepening their understanding of how it came about. There will be many chances to gain new skills and hands-on experience from helping to restore historic mills to surveying wildlife habitats.
Trails, guided walks, events and exhibitions will be created and there will also be a small grants scheme introduced so local people can apply for funding for Broads heritage projects of their own.
Together all these projects will help conserve the breath-taking landscape of the Broads National Park for people to enjoy in the future.
Stakeholder meetings
Seventy people from more than 60 organisations and local groups went to the first project workshop on 1 October 2014 in Acle. The event was an opportunity for the lead partners to introduce the project and to gather stakeholder input into its development. You can read more in the full meeting transcript.
Further information
You can contact Andrew Farrell, Project Manager, on 01603 610734 or by email.
Alternatively, please make an enquiry through the Water, Mills and Marshes contact form.
Popular in Looking after
You might also like