100 years of Ted Ellis
The nature and wildlife journals of Norfolk's most well-known naturalist Ted Ellis turn 100 years old in October 2023.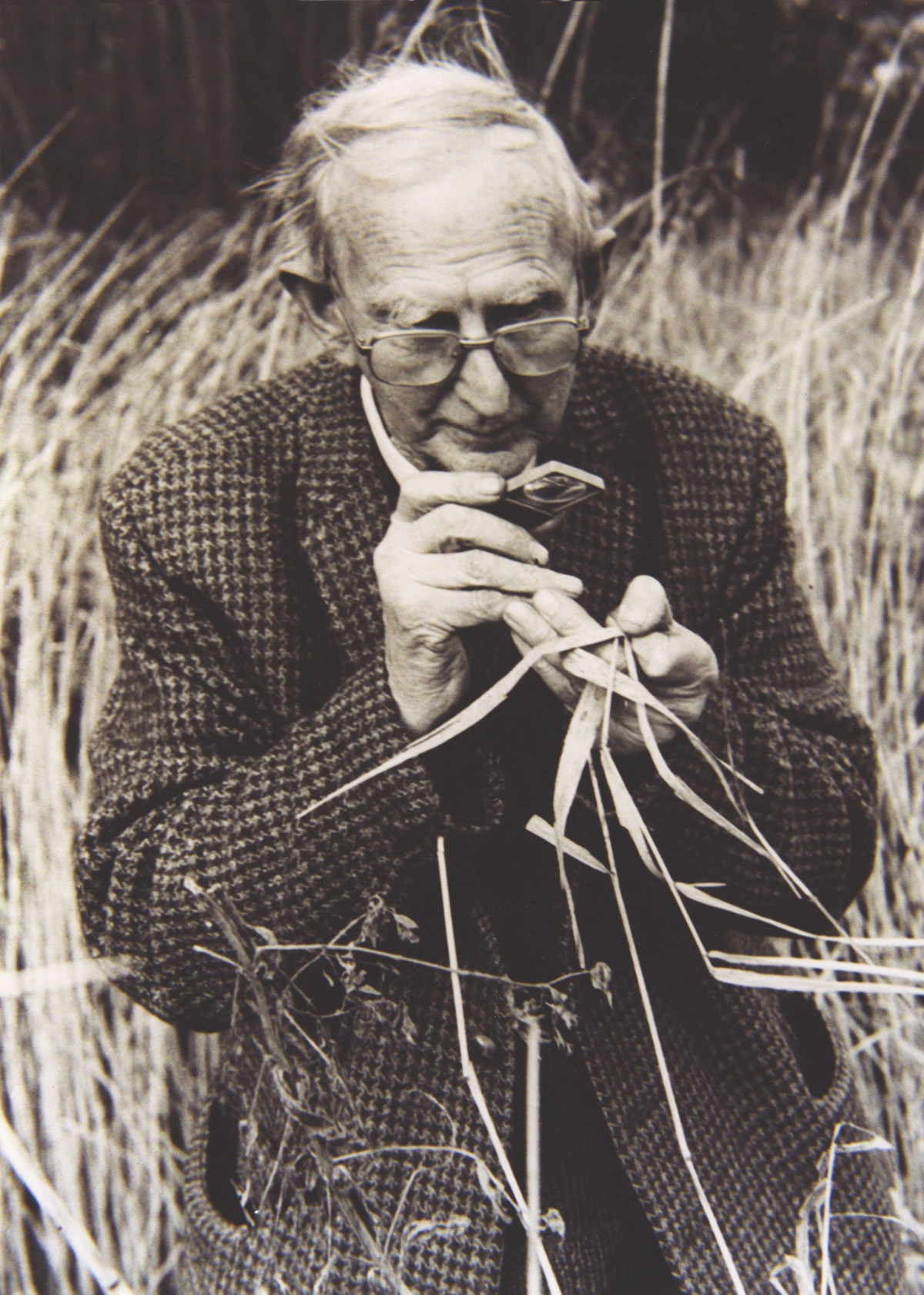 To celebrate, this autumn and winter, the Authority and partners are launching a project to digitise Ted's wildlife journals, sharing his fascinating discoveries from around Norfolk during the early 1920's, details of the locations he explored and the diversity of plants and wildlife he saw.
There are hundreds of journals and records to go through, so we are going through them piece by piece to pick out highlights to share with the world. Eventually we hope to digitise and make as many records publicly-accessible as we can online, so please stay posted for future updates.
Who was Ted Ellis?
Although Ted, Norfolk's most famous naturalist, died in 1986, his life's work lives on in his wildlife journals, which document his observations and detailed drawings of what he saw around Norfolk (the shores of Great Yarmouth and Gorleston) and his beloved home at Wheatfen Nature Reserve in Surlingham.

As a child, Ted lived in Great Yarmouth, he left school aged fifteen and went to work in a factory making false teeth. At nineteen he started working at the Castle Museum, Norwich, where he developed his enthusiasm for wildlife. Ted stayed here until 1956, as Keeper of Natural History, writing his daily notes on the countryside for the Eastern Daily Press, and broadcasting on the local radio station.
Ted's meticulous attention to wildlife and the natural world at his home at Wheatfen Broad meant that this small pocket of the Broads became known as perhaps the 'best-studied area of fenland in the entire world.'
The Ted Ellis Journals Project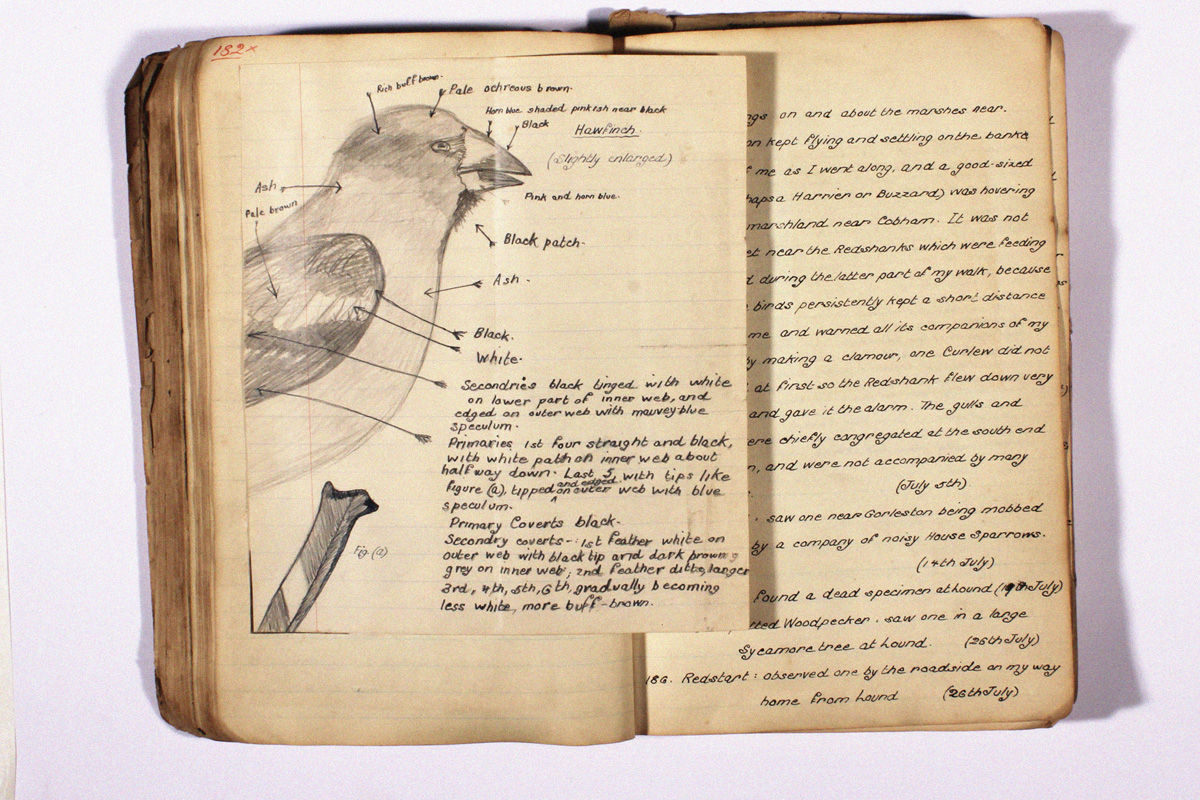 The project celebrates Ted Ellis, Norfolk's most famous naturalist and shares insights from his life's work. The Ted Ellis archive at Wheatfen Nature Reserve provides a raw and insightful perspective of his discoveries, alongside Ted's passion for his research.
However, the archive is not widely accessible to the public. Our project aims to open the archives up and share his work with a wider audience, offering access to his early journals, building enthusiasm for wildlife journaling and encouraging engagement with wildlife and the natural world.
The Ted Ellis Journals project comprises of a brand new Instagram account celebrating Ted's life, an in-person journaling workshop and various engagement events. Read on to learn more about the different elements of the project.
Follow 100 years of Ted on Instagram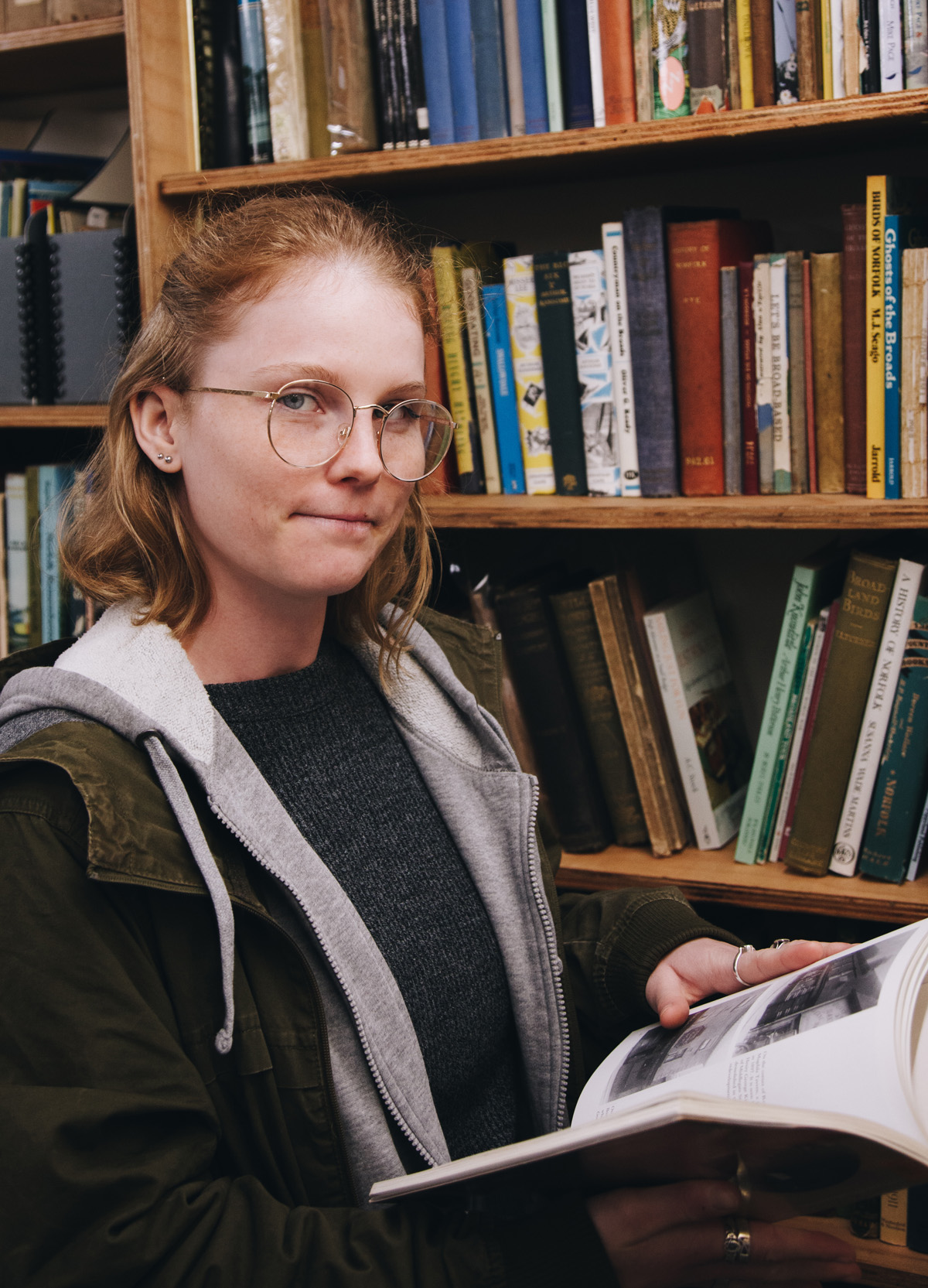 In October 2023, Norwich University of the Arts Photography student Monika Swiat joined the Authority for a six-week internship curating the '100 years of Ted Ellis' digital project. She is constructing a virtual museum on Instagram, showcasing his research, visuals, texts, annotations and illustrations, to help Ted's work reach a wider public audience.
'100 years of Ted Ellis' will go live on Instagram in December, at this address: @tedellis_journals. Delving into his archives, we will share what Ted saw, and how natural history has changed from Ted's time until now.
To launch the project, members of the public are invited to the following activities and events.
One month of Ted: how to nature journal
This autumn and winter we are encouraging members of the public to get outdoors, channel their inner Ted Ellis and keep a nature journal for up to a month.
Get out in nature, notice things, make a record of it - be it a particular species you have seen, a wild landscape, or a bit of nature in an unlikely spot.
Whatever it is, record it, however you want. Although journals are traditionally written, feel free to record with photography, with video, through art, make a blog, or as Ted did with a pen and paper. It doesn't have to be every single day, just regular records of your engagement with local wildlife. However, the more you get out, the more you will notice.
Journaling workshop
The Ted Ellis Trust is running a naturalist's journaling workshop, delivered by Professor Suzie Hanna from Norwich University, who happens to be Ted Ellis's daughter.
The event will explore some pages from Ted Ellis' early journals in detail and follow his example by going out into the woods or onto the fen to engage in observation, description and annotation of natural subjects using small notebooks that will be provided. Sun, 3 Dec 2023, 10:00 - 13:00 at Wheatfen Nature Reserve.
Book here via EventBrite: A Naturalist's Journal: Interactive workshop at Wheatfen Nature Reserve Tickets, Sun 3 Dec 2023
Beachcomb Bioblitz and other events
Join the Authority and local wildlife charities on a guided 'beachcomb' at Gorleston Seafront and Beach on Saturday 9 March 2024 to explore the wildlife that so inspired Norfolk's greatest naturalist.
With one of the lowest tides of the year (3pm) we will search for creatures out on the breakwater to compare them to Ted's description from October 1923. Gaze out to sea with binoculars and telescopes and find out more about the wildlife conservation of the North Sea.
The super-low tide will give you an opportunity to see what amazing wildlife makes the harbour breakwaters its home: from seaweeds and anemones, to barnacles, whelks, and more besides.

This event is aimed at all ages, particularly families and young adults. Wildlife experts from the Authority and partners will be on hand to answer questions about the habitats and wildlife you find, plus you can find out more about careers in conservation and wildlife.
We'll announce booking information in due course.
If any schools in the local area would like to find out more about the opportunities for visits to some of the places that Ted Ellis was inspired by, please contact: Chris.Ford@broads-authority.gov.uk
Project partners
The '100 years of Ted Ellis' Project is funded by Water, Mills and Marshes: Broads Landscape Programme, the National Lottery Heritage Fund and is supported by the Ted Ellis Trust, Broads Authority and Norwich University of the Arts.
Journals, images and other records have kindly been provided by the Ellis family as well as The Museum of the Broads.
Popular in Looking after
You might also like