Environmentally friendly boating
However you take to the water, there are environmentally-friendly choices you can make.
Low wash hulls
While reducing speed is the main way of reducing boat wash and bank erosion, size and shape of a craft's hull also affects this. Short full bows give high boat waves, longer finer bows reduce this.
Pollution
Washing water from boats goes into rivers and broads so cleaning products we use have a direct impact on the water environment. Choosing phosphate-free detergents and washing-up liquids helps improve water quality.
The Oil spill contingency plan includes the management of oil and fuel spills relating to private and hire craft. If you see a spill or wish to report any pollution on the water, please contact Broads Control on 01603 756056.
Anti-fouling
Traditional anti-fouling paints use toxic ingredients which prevent organisms settling on boat hulls. In the Broads the range of creatures is limited, with algae being the most common fouling.
Toxic ingredients used in anti-foul paints in the past were effective but left contamination. Some areas were seriously affected.
Modern anti-foul paints which leave no persistent chemicals are currently used on Broads Authority vessels, as we aim to ensure the Broads can be enjoyed by all. Find out how to reduce use of anti-fouling paint and boat greener and cleaner.
The Green Boat Mark
In 2011 we established the Green Boat Mark, the first eco-accreditation scheme for motor cruisers in Europe, in partnership with the:
Boats are graded on 25 different criteria including sewage water disposal, use of phosphate free cleaning products and information given to customers including:
the importance of responsible navigation
the use of phosphate free products
details of recycling facilities
the avoidance of noise pollution
disposal of waste cooking oil
eco-sensitive underwater hull coating/antifouling
Look out for hire boat companies displaying the Green Boat Mark.
We also promote environmentally friendly boating with our own electric and solar powered boat trips and we helped set up the Broads canoe hire network.
Electric day boats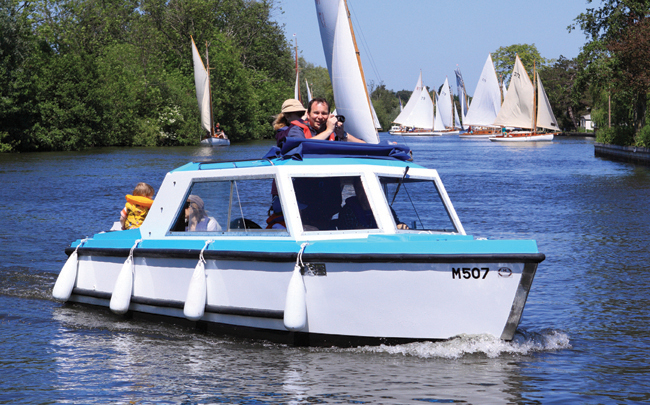 Day boats are ideally suited to electric power as they can be recharged overnight. The adaptation of electric power for weekly hire craft remains a harder task.
In 1992 seven charging points were installed in the northern rivers as a first step. We have added more points, and there are also points at some private moorings.
The Electric Boat Association has more information on history and design of electric boats.
The Authority encourages more environmentally-friendly forms of boating with reduced charges for electrically propelled motor craft.
Please see our list of electric charging points and card outlets in the Broads.
The Green Blue
For practical advice or information on how you can reduce your impact our waterways the Green Blue is the joint environment programme created by the British Marine Federation and Royal Yachting Association.
Popular in Owning a boat
You might also like