What we are doing in the Broads
The Broads Authority is committed to working with the local community and our visitors to reduce the carbon footprint of the Broads. The Authority has pledged to be carbon neutral in its operations and activities by 2030.
The Broads Authority has adopted a climate statement to work towards the issue of climate change.

Reducing our own footprint
The Authority is in the process of replacing its petrol and diesel vehicles with electric vehicles. This will substantially reduce the 100 tonnes of annual CO2 emissions from our road vehicles. With the fall in the price of electric vehicles, this is a win/win for the authority, as the lifetime cost of these vehicles will soon be lower than that of a diesel or petrol vehicle.
As a stop gap measure as we wait for zero-emission construction equipment to become available, we have begun to use HVO biofuel with our dredging and construction equipment. This biofuel is certified as 100% produced from waste cooking oil.
All electricity used in BA offices and buildings, as well as supplied through our Electric Hook up points at moorings, is purchased on a green tariff.
We have three electric-powered trip boats, the Electric Eel at How Hill, the Liana at Ranworth, and Ra, the UK's first solar powered vessel.
Where appropriate, we will be adding solar panels to our buildings to generate our own sustainable electricity.
Through these measures, between 2017 and 2022 we have reduced our direct emissions by just over 51%.
Starting in 2019 we set an objective of being Carbon Neutral by 2030, with residual emissions offset locally within the Broads. We then aim to eliminate any residual emissions by 2040.
Electrifying the Broads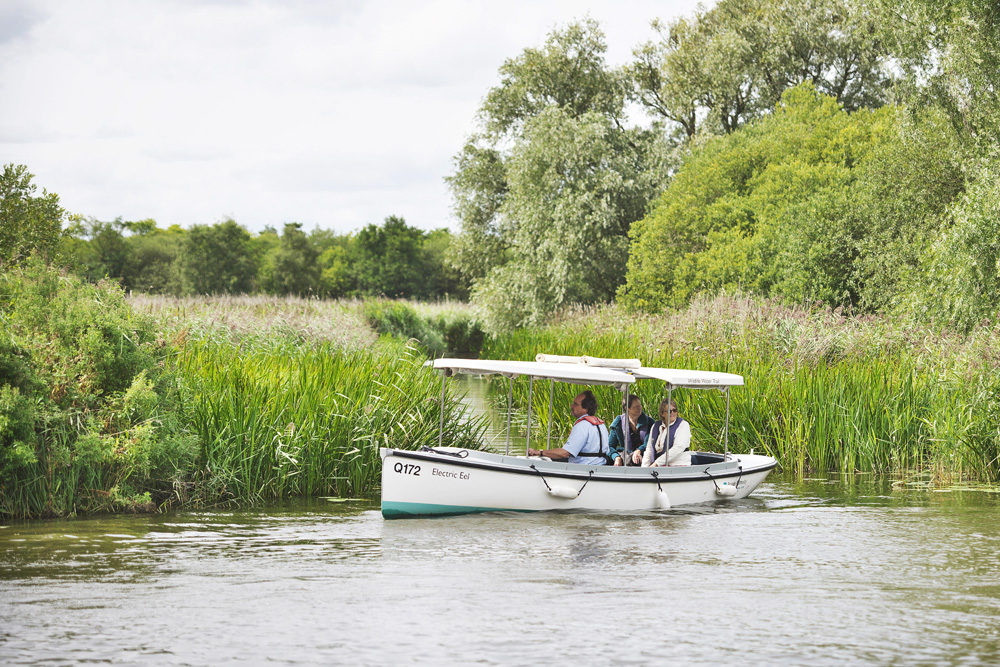 As the Navigation Authority for the Broads, the Authority is exploring how to facilitate the transition to zero-carbon boating as quickly as possible, working with both private boat owners and the hire sector. The Broads Authority already operates a number of electric points at mooring locations around the Broads, we are looking at how to build on this to create a network that fully electric battery-powered boats can operate on comfortably, whilst also investigating other options for the longer term such as Hydrogen power and Synthetic Fuels.
In 2021 a partnership called "Electrifying the Broads", consisting of the Broads Authority, Ren Energy, Norfolk Broads Direct, Net-Zero East and Hethel Innovation received funding through the Clean Maritime Demonstration Competition to carry out a feasibility study on the use of electric hire boats in the Broads.
Read the full Electrifying the Broads report (PDF).
We have received funding from Local Authority Partners and through the LEVI scheme, which will continue to roll out more electric pillars around the Broads.
CANAPE
Between 2017 and 2023 the Broads Authority led the Creating A New Approach to Peatland Ecosystems (CANAPE) project, an international collaboration funded by the Interreg North Sea Region Programme. This project brought together 14 partners in 5 countries with similar challenges around the management of peatlands.
This project developed restoration techniques and wetland farming techniques, which allow for significant reductions in Greenhouse Gas Emissions from peatlands. These wetland farming techniques have been showcased to farmers, and we are working with farmers to encourage low carbon farming on wetlands, supporting the NFU objective of making agriculture carbon neutral by 2040.
Popular in Looking after
You might also like