Contact us
Send us a message
If you'd like to contact us via email, please use our contact form where your enquiry will be forwarded on to the relevant department within the Authority to be dealt with.
Main Office
Broads Authority
Yare House, 62-64 Thorpe Road, Norwich, Norfolk, NR1 1RY
Tel (01603) 610734
Opening Times
Monday - Friday 9.00am-5.00pm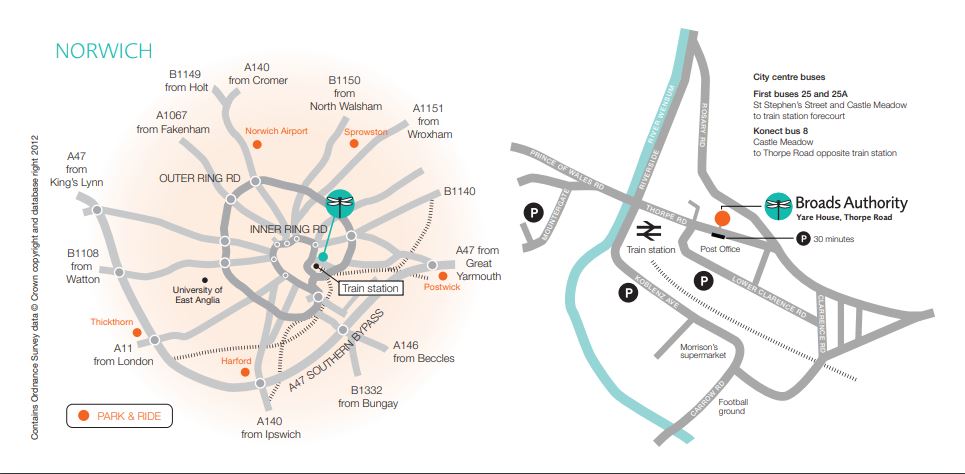 The Authority aims to encourage use of more sustainable means of transport to its office.
There is no parking available at the office except parking for disabled people and limited short-stay spaces (for visits of under two hours). Suggested walking and cycling routes, park and ride sites around Norwich and the nearest car parking are shown on the maps above.For more information about places to park in and around Norwich City Centre, have a look at the Norwich City parking map.
Broads Control
If you want to contact the Broads rangers to report an incident, you can phone Broads Control on 01603 756056 or email Broads.control@broads-authority.gov.uk.
Broads Control is manned between the hours of 9am and 6pm during summer, and 9am and 5pm during winter.
Please always phone 999 in case of emergency.
Visitor centres and yacht stations
For boating information or hints and tips on where to stay and what to do while visiting the Broads, please contact our visitor centres and yacht stations. These are open from April to October. For boating assistance all year round contact Broads Control on 01603 756056.
© Crown copyright. All rights reserved. Broads Authority 100021573. 2010
Customer service standards
Our Customer Service Standards (pdf 528kb) outline the timescales of response that our customers can expect to receive when they contact us. These standards reflect the core values of the Broads Authority. We endeavour to achieve high levels of customer satisfaction across all of our services and our standards are aimed at assisting this process.
You might also like