CANAPE

CANAPE (Creating a New Approach to Peatland Ecosystems) is a European funded Interreg North Sea Region project which aims to deliver peatland restoration; develop new peatland products and bring economic benefits.
Globally, drained peatlands are responsible for 5 % of all man-made greenhouse gas emissions. However undrained peatlands capture carbon from the air, having a positive effect on global sea level rise and climate events. Broads peatland, fen and reedbed are also wildlife hotspots, supporting a quarter of the UK's rare species, which helps attract over 7 million visitors each year, supporting the local economy.
Aims
CANAPE aims to create resilient ecosystems where the management can be sustained long into the future and is underpinned by the use of renewable resources, such as reed biomass or lake sediment to build economic, natural and social capital. The project partnership includes public, private and voluntary sector organisations based in the United Kingdom, Denmark, Germany, Belgium and the Netherlands.
Peatland ecosystems require costly management, which is why CANAPE, a European funded Interreg North Sea Region project, will be helping to fund the restoration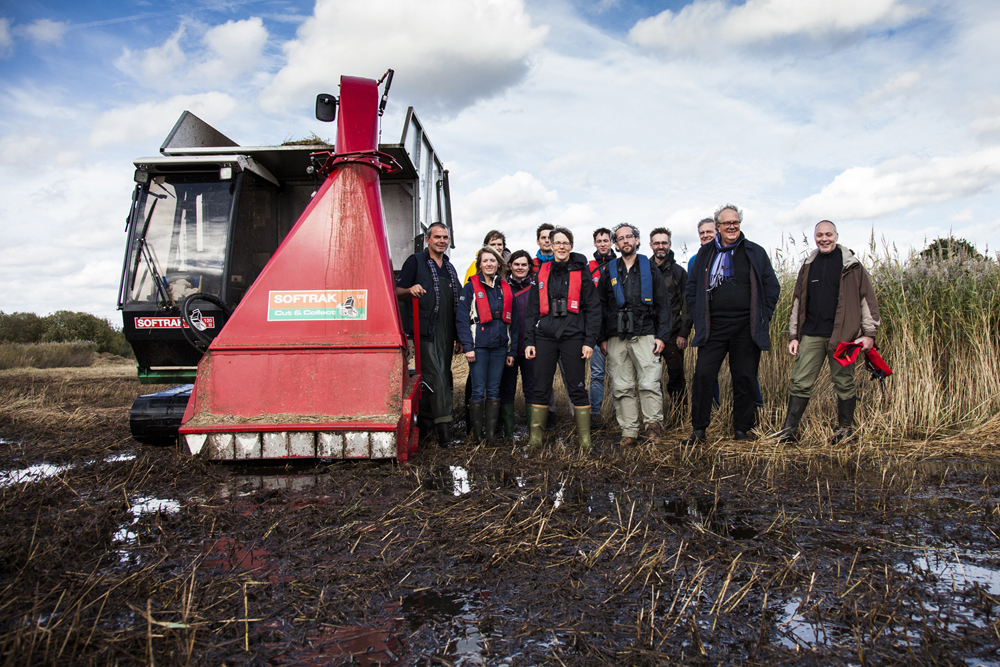 of healthy reed margins to benefit wildlife and people in the UK. To do this they will be reusing sediment from the boating channel at Hickling Broad. CANAPE will also manage reed and fen vegetation (also known as biomass) which needs removing from sites. Biomass removal can result in a financial cost, or add carbon to the air if it is burnt. Leaving biomass on-site ruins the future crop of fen and reed and causes waste. Instead, new reed products will be created from this potentially valuable resource.
CANAPE also aims to raise awareness of the importance of peatlands in the Broads, the existing products they create, such as reed and sedge for thatching, and new products including bioenergy, charcoal and compost soil improvers. Work will include using an expert model to inform lake ecology, new reed product promotion and working with schools on citizen science to help develop awareness levels.
Summary of the UK project objectives:
Demonstrate best practice and enhance biodiversity through:

Recreating healthy reed margins, by reusing sediment from boat channel maintenance, to benefit wildlife and people using Hickling Broad.
The conversion of surplus materials generated from conservation management and commercial reed and sedge cutting into new products.
Trials of charcoal products made from conservation waste

Develop expertise, raise awareness and create networks to help understand lake ecosystems and investigate the potential markets for locally created materials from wetland sites.
CANAPE builds on existing work including reusing sediment from dredging in PRISMA (2011-2014), development of the UK's first New Wetland Harvest LIFE (1997-2000), Wetland Conservation Biomass to Bioenergy DECC (2015-2016) and working with Reed and Sedge Cutting Industry to identify new opportunities.
Peat carbon mapping
The Broads Authority is assessing carbon stocks and greenhouse gas emissions from the Broads National Park. Working with a team of researchers from Queen Mary University of London and Cranfield University, a map with the best estimates of peat stores will be formed. In addition, a spatial model based on land use, water levels and underground layers of peat will provide excellent information for landowners wanting to capture and store carbon in their land.
The Broads Authority aims to use this information to support landowners in accessing future payments to create nature-based solutions to capturing and storing carbon in vegetation and wetland soils.
This work is funded by the EU project, CANAPE – Creating a New Approach to Peatland Ecosystems.
Popular in Looking after
You might also like