Other planning issues
All sorts of factors need to be taken into consideration when planning a development.
We advise on avoiding possible pitfalls and how to achieve good, sustainable designs. Our guidelines are supported by planning policies and informed by Landscape Character Assessments and Landscape Sensitivity Studies.
You can find out more about issues such as flood risk, building in conservation areas, Article 4 Directions which affect permitted development rights, how we protect our built heritage and also about trees and hedgerows. Further information about issues such as building at the waterside and information for planning agents is available on our design guides page.
Recreation Impacts Avoidance Mitigation Strategy
The Suffolk Coast Recreation Disturbance Avoidance and Mitigation Strategy (Suffolk Coast RAMS) and the Norfolk Recreation Avoidance and Mitigation Strategy (Norfolk RAMS) aim to reduce the impact of increased levels of recreational use on Habitat Sites (also often called European Sites). This strategy has been created due to new residential development in Norfolk and the Suffolk Coast area, and to provide a simple, coordinated way for developers to deliver mitigation for their developments.
More information can be found on our Habitat mitigation webpage.
Nutrient Neutrality
Alongside all other local planning authorities in Norfolk, the Broads Authority has received a letter dated 16 March 2022 from Natural England concerning nutrient pollution in the protected habitats of the Broads Special Area of Conservation and Ramsar site. The letter advised that new development within the catchment of these habitats comprising overnight accommodation has the potential to cause adverse impacts with regard to nutrient pollution.
More information can be found on our Nutrient Neutrality webpage.
Sustainability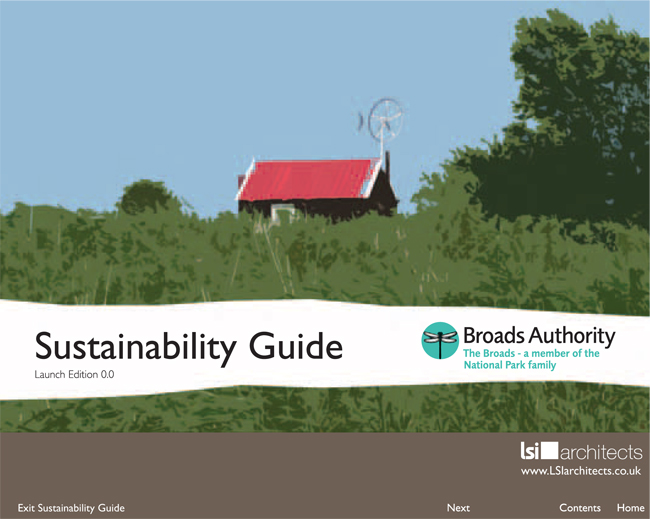 The Broads is England's largest protected wetland with some of the most finely balanced habitats so careful thought needs to be put into how to make development here sustainable.
The Sustainability Guide has sections on designing buildings to adapt to climate change, energy efficiency, choosing materials which have a low impact on resource depletion and improving energy consumption.
It is not intended as a prescriptive guide but to inspire and outline opportunities on achieving sustainability in the Broads. It was researched and prepared by LSI Architects in conjunction with the Broads Authority using Sustainable Development Fund money.
Renewable energy infrastructure
National renewable energy markets are projected to continue to grow strongly in the coming decade but the growth in this sector must be balanced against the potential impact its associated infrastructure can have on the landscape of the Broads.
New developments have to be carefully considered and, to inform this process, we have Landscape Sensitivity Studies covering the sensitivity of distinct areas of the Broads to wind energy, solar panel developments and the associated infrastructure.
The natural beauty of the Broads is considered highly sensitive to wind turbine development. It is recommended that you contact us to discuss the environmental impact of any proposed wind turbine project before submitting a planning application.