Electric boat charging points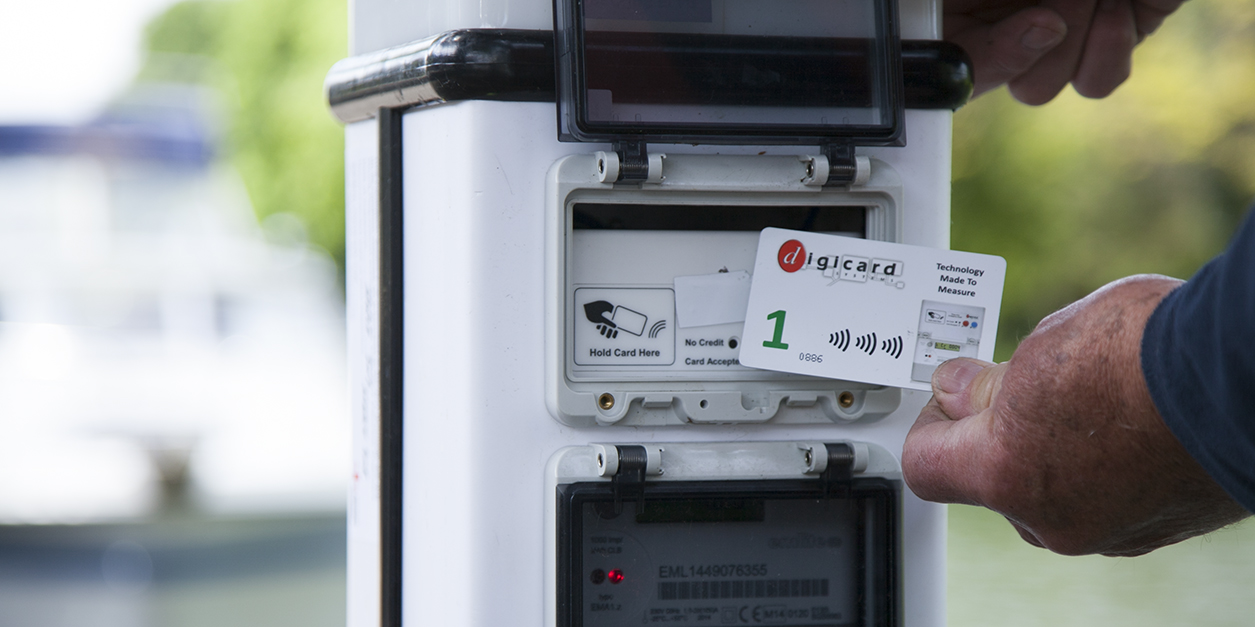 Electric boats are a cleaner and greener way to travel.
The Broads Authority encourages more environmentally-friendly forms of propulsion with reduced charges for electrically powered motor craft and a network of charging points for them.
The electric charging points are operated with contactless cards costing £1 from outlets throughout the Broads. The power outage on each charging point is 32amp and 16amp and the card you purchase can be used for every one of our points. There are a limited number of outlets and no booking system is in place to reserve points.
The electricity units in each £1 card for the period April 2023 to March 2024 is currently 2.9. This figure is reviewed each year (next review approx. May 2024) and reflects the current rate from our electrical supplier.
You will also require a standard caravan hook up plug and cable.
The meters indicate where to hold your card in order to transfer the credit to the meter. The cards are for single use only.
Instructions for using the meters
For further details please call the Broads Authority tolls office on 01603 756080 or email tolls@broads-authority.gov.uk.
Charging points
Broads Authority 24 hour moorings with charging points are listed below:
Acle Bridge
Bramerton
Burgh Castle
Coltishall Common
Dilham Staithe
Great Yarmouth Yacht Station
Hoveton
Horning
Irstead Staithe
Loddon
Neatishead
Norwich Yacht Station
Potter Heigham
Ranworth
Reedham Quay
Rockland St Mary
Somerleyton
Stokesby
St Olaves
Sutton Staithe
Private charging points from other providers are available.
Card outlets
Outlets where you can purchase electric cards are listed below:
| Location | Card outlets |
| --- | --- |
| Acle | Dunes River Cafe at Acle Bridge (during summer season, NR13 3AS) |
| Brundall | Broom Boats (NR13 5PX), Norfolk Yacht Agency (NR13 5PN) |
| Burgh Castle | Goodchild Marine Services (NR31 9PZ) |
| Coltishall | Mace Post Office (NR12 7EA) |
| Great Yarmouth | Great Yarmouth Yacht Station (during summer season, NR30 1QX) |
| Hardley | Hardley Windmill Trust (during summer season, NR14 6BY) |
| Horning | Bass-Online (NR12 8PX), Horning Ferry Marina (NR12 8PS), Tidings Newsagents (NR12 8AA) |
| Hoveton | Broads Information Centre (during summer season, NR12 8UR), Norfolk Marine Chandlers (NR12 8UG) |
| How Hill | Toad Hole Cottage Visitor Centre (during summer season, NR29 5PG) |
| Loddon | Bridge Stores (NR14 6NA); Loddon Marina, Bridge Street (NR14 6EZ) |
| Ludham | Big Shop On Womack Staithe (NR29 5QG) |
| Neatishead | White House Stores (NR12 8BJ) |
| Norwich | Norwich Yacht Station (during summer season, NR1 1SQ), Broads Authority Yare House (NR1 1RY) |
| Oulton Broad | Jeckells & Son, 128 Bridge Road, Oulton Broad, Lowestoft (NR33 9JT) |
| Potter Heigham | Herbert Woods (NR29 5JF) |
| Ranworth | Ranworth Visitor Centre (NR13 6HY) |
| Reedham | Reedham Quay (during summer season, NR13 3TE) |
| Rockland | New Inn Pub (NR14 7HP), Rockland Post Office & Store (NR14 7AH) |
| Somerleyton | Somerleyton Cycles & Ice Cream Parlour Jernigan, The Street (NR32 5PS) |
| Stalham | Simpson's Boatyard (NR12 9DA) |
| Sutton | Sutton Staithe Boatyard (NR12 9QS) |