Key people
Many people have been influential in helping protect the Broads and have inspired others with their love of the area. Here are just a few:
Joyce Lambert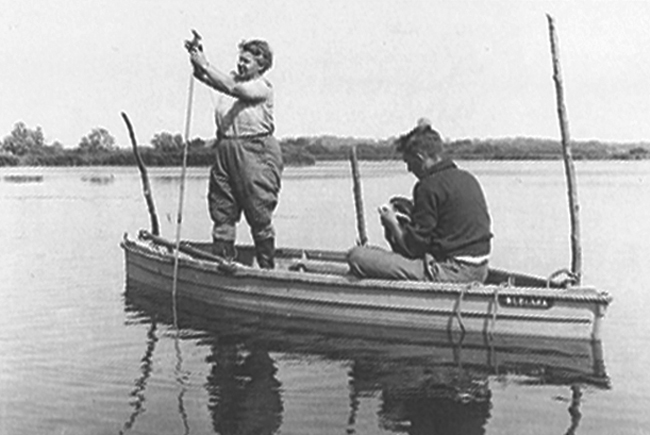 Joyce Lambert was a botanist who caused a sensation when she revealed that the Broads were not created naturally but were man-made, a discovery that has transformed our understanding of the area. Her research revealed that the broads had vertical sides and almost flat beds. She therefore deduced they could not have formed naturally but must have originated as peat diggings.
When she set out her preliminary conclusions in 1952, her ideas were greeted with scepticism. It seemed impossible that so large a volume of material could have been excavated by hand.
However, further research revealed that, between the 12th and 14th centuries, there had been a huge demand for peat for fuel in what, by the 14th century, had become one of the most densely populated and prosperous areas of England.
It was discovered that each parish in the Broads area possessed right to dig peat within a specified area. Ancient Tithe maps showed the boundaries for these rights, and Joyce Lambert realised that these coincided with the shape of each Broad.
Ted Ellis
Ted Ellis, the well-known writer and broadcaster, devoted his life to natural history. He was Keeper of Natural History at the Norwich Castle Museum for nearly thirty years and was active in many nature organisations. His scientific work included the discovery of many British micro-fungi.
In his writing and broadcasting, Ted Ellis vividly described the world of Norfolk's fens and waterways, explaining the complex ways in which one life form depends on another and emphasising the need to protect the area's richness.
The great passion of his life was Wheatfen Broad where he lived with his family for 40 years. It contains 130 acres of reed beds, tidal channels with a unique diversity of flora and fauna and the small broads of Wheatfen and Deepwaters. It is a Site of Special Scientific Interest and one of the last tidal marshes of the Yare Valley. Wheatfen is now managed as a nature reserve looked after by the Ted Ellis Trust.
You can go to Broads voices to hear recordings of Joyce Lambert and Ted Ellis.
Aitken Clark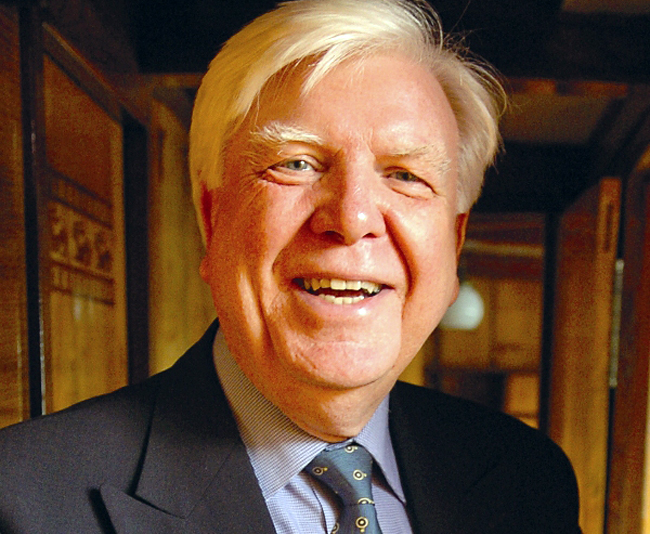 Aitken Clark was the first chief executive of the Broads Authority. When he took up the post, the shallow, navigable lakes and connecting rivers of the Broads were choked with boats, polluted and under threat from agriculture. During his tenure, water quality improved, habitats were restored and rare wildlife returned. His work was acknowledged with an OBE in 1998, and the Delta D'Oro award for European conservation in 1999.
He took a special delight in the introduction of electric boats – including the first solar-powered passenger boat in the UK, Ra, which now takes passengers on trips around Whitlingham Great Broad. He helped establish the Wherry Yacht Charter Charitable Trust in 2002, remaining its chairman until his death in 2010.
Aitken Clark was instrumental in driving through the 1988 legislation that gave the broads national park status. He played an important role in the Europarc Federation, which brings together national parks across Europe, and was its president from 1990 to 1996.
Martin Broom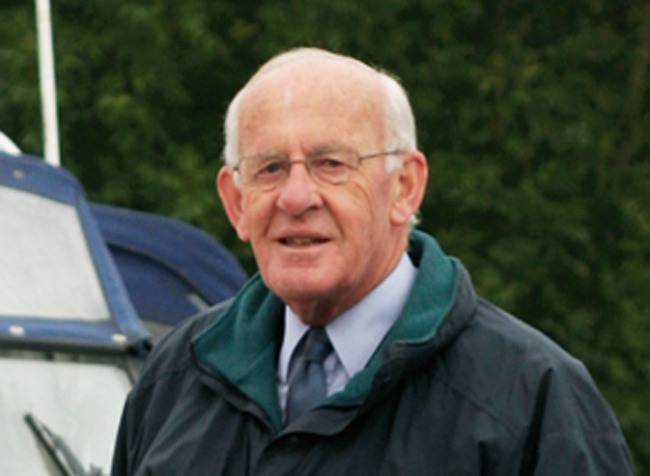 For more than 50 years Martin Broom was chairman of the family boat building firm Broom Boats of Brundall, founded by his grandfather 115 years ago, which also ran a hire fleet.
He devoted his spare time to promoting the interests of both commercial and private boating as well as being a champion sailor himself. He was a member of the Broads Authority for 30 years and chaired its Navigation Committee from its inception in 1988.
He was also a past chairman of the Broads Hire Boat Federation, Blakes Holidays Ltd, the Royal Yachting Association, the Norfolk and Suffolk Yacht Owners Association and the British Marine Federation East Anglia. He was vice chairman and director of the British Marine Federation and a long-standing committee member of the Broads Society.
For 25 years Martin was a member of the Great Yarmouth Port Authority, and for many years sat on the Royal Yachting Association Inland Waterways Panel as well as a number of other RYA committees. He was a leading committee member of the Norfolk and Suffolk Boating Association, which serves the interests of Broads boaters, commodore of the River Cruiser Class and a member of several sailing clubs including the Royal Norfolk and Suffolk Yacht Club and Norfolk Broads Yacht Club.
Martin was made MBE for his service to the marine industry and Broadland in 1991.
Eric Edwards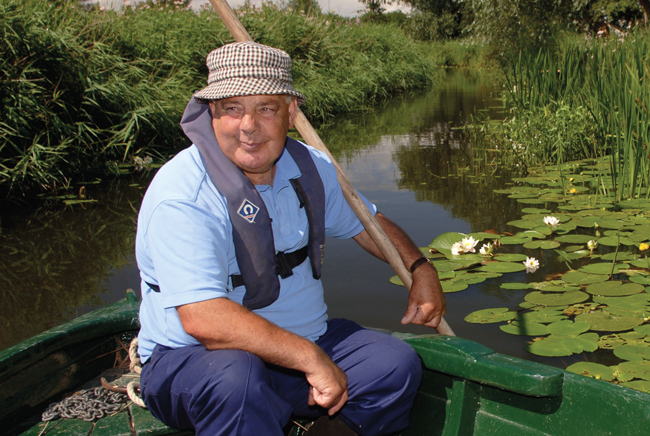 Eric Edwards was one of the last marshmen to use traditional tools for cutting reed and sedge in the Broads. He was a familiar face at How Hill Nature Reserve, near Ludham, where he worked from 1967 until shortly before his death in 2012.
Eric was a great ambassador for the Broads, teaching school groups about the history of his trade and the wildlife of the area. He even gave lessons in stacking and dressing reed to both the Prince of Wales and Baroness Thatcher, whose technique he famously criticized. He also appeared several times on the Generation Game encouraging contestants to try their hand at dressing reed bundles.
Eric missed no opportunity to extol the virtues of Norfolk reed. When a character in the Radio 4 series The Archers used Hungarian reed to rethatch a cottage, he registered a protest by leaving a pile of reed on the steps of the BBC building in Norwich. As a result the storyline was changed and the cottage re-roofed with material from Norfolk.
Eric Edwards was appointed MBE in 2004 for services to the Broads.