Cutting the Broads' carbon footprint
The Broads Authority is committed to working with the local community and our visitors to reduce the carbon footprint of the Broads. The Authority has pledged to be carbon neutral in its operations and activities by 2030.
The Broads Authority has adopted a climate statement to work towards the issue of climate change.

What we are going to do
Starting in 2019, we are carrying out a full audit of the sources of Greenhouse Gases from the Broads Area. This will be completed by 2020, and will give a full picture of the climate change impact of various activities within the Broads. The purpose is to identify where resources are best spent in reducing the footprint of the Broads.
What we have already done
The Authority is in the process of replacing its petrol and diesel vehicles with electric vehicles. This will substantially reduce the 100 tonnes of annual CO2 emissions from our road vehicles. With the fall in the price of electric vehicles, this is a win/win for the authority, as the lifetime cost of these vehicles will soon be lower than that of a diesel or petrol vehicle.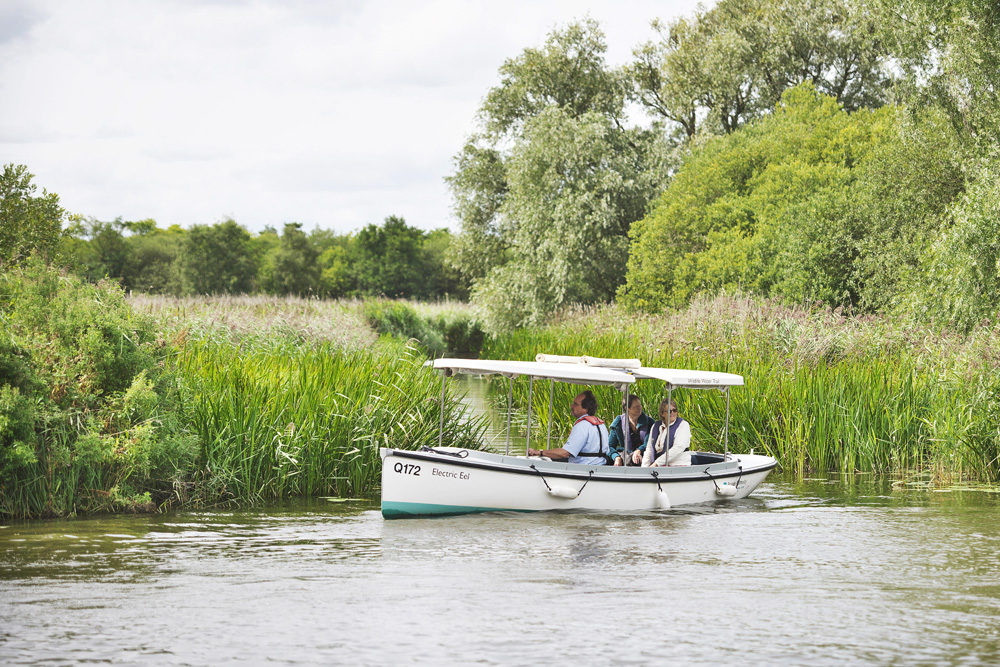 We were early adopters of hybrid engine boats, and operate hybrid diesel-electric launches in the upper rivers. Through our continuous programme of launch replacement and upgrading engines as they reach their end of life we have the opportunity to showcase green boating, as well as reducing the 20 tonnes of CO2 a year emitted by our launches. We have two electric-powered trip boats, the Electric Eel in Hoveton and Ra, the UK's first solar powered vessel.
Through our CANAPE project we are working with farmers to encourage low carbon farming on wetlands, supporting the NFU objective of making agriculture carbon neutral by 2040.
Information and support
Our Zero Carbon vision is still being fully developed, and information will be added to these pages as it comes forward.
Animations
Watch Broads Future, a short video outlining the main issues around flood risk management in the Broads.
Resources for Local Communities
The environmental charity Ashden have produced a toolkit for local communities to aid both climate adaptation and climate mitigation.
The Carbon Trust has a large collection of resources for businesses, providing practical information on decarbonisation. Although this is targeted at businesses, it is also relevant for anyone who manages buildings or operations more generally. (For example, a Village Hall).
As part of the Broads Sustainable Tourism Strategy, we have produced "Greening the Broads – A Guide to good practice for businesses in the Broads".
Additional resources will be added as our work on climate mitigation progresses.
Leaflets
The leaflets below were produced under the previous Broads Community initiative. They are in the process of being updated.
Please contact us for more information.
Strategy and research
Our understanding about the challenges facing the Broads is growing. As information comes forward, it will be added here:
Popular in Looking after
You might also like