Broads Local List of heritage assets
There are many buildings and structures of historic quality within the Broads which may not meet the national criteria for listing. They are however appreciated by local people for many reasons and contribute to the local character through their appearance or historical associations. These buildings can be identified and included in the Broads Local List of Heritage Assets.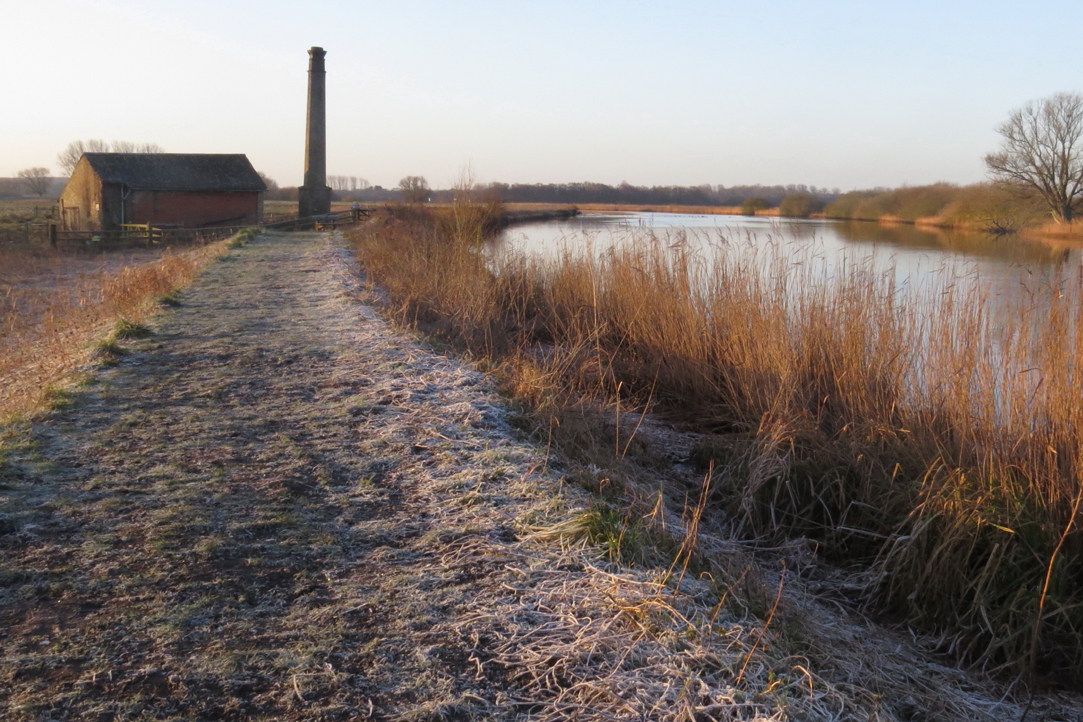 They can be nominated by parish councils, individuals or the local authority. Owners of the asset and the parish council are consulted about potential inclusion and responses presented to local authority members who decide on inclusion.
The number and breadth of these types of buildings and structures within the Broads is far ranging. The Broads Authority have therefore taken a themed approach when identifying these buildings. Previously the Broads Authority has worked with local communities and groups and identified WWII structures, unlisted Mills and Waterside Chalets of local importance.
Waterside Chalets are particularly distinct to the Broads and contribute significantly to the wider character of the area. They tell us a lot about the evolving history of the Broads and changing social fashions. Given their contribution to the wider Broads setting it is considered beneficial to acknowledge and celebrate the best local examples. Further information on the Waterside Chalets can be seen in this guide.
The list is regularly reviewed and structures can be removed if they are extensively altered or identified and included. More information about the list can be found on our Protected buildings page.
Please feel free to contact the heritage team on planning@broads-authority.gov.uk for further information on specific buildings or to nominate a building for inclusion on the list.
Below is a complete list of building on the Broads Local List
Parish

Building Type

Name

Acle

Waterside Chalet

Bridge Stores

Acle

Drainage Mill

Charlie Waters Mill

Belaugh

House

7 Hill Piece, Top Road

Belaugh

House

8 Hill Piece, Top Road

Belaugh

House

Belaugh House, Top Road

Belaugh

Chalet

7 (Holly Wood), Top Road

Belaugh

House

4 Top Road

Belaugh

House

5 Top Road

Belaugh

House

8 Top Road

Belaugh

House

9 Top Road

Belaugh

House

10 Top Road

Belaugh

House

11 Top Road

Belaugh

House

12 (Flint Cottage), Top Road

Belaugh

Community Meeting Rooms

The Old School (Church Meeting Rooms) and outbuilding, Church Lane

Belaugh

House

Hillcrest, outbuilding and walls to Church Lane

Belaugh

House

3 (High Meadow), Church Lane

Belaugh

House

The Cottage, The Street

Belaugh

House

Church Cottage and flint boundary wall, The Street

Belaugh

House

18 (The Old Rectory), The Street

Belaugh

House

Bure House, The Street

Belaugh

House

River Cottage and boundary wall, The Street

Belaugh

House

5 (Staithe Cottage), The Street

Belaugh

Boatshed

Belaugh Boatyard Boatsheds x2, The Street

Belaugh

Boatshed

Boatshed on plot, The Street

Belaugh

Converted Barn

2 (Bure Bank), The Street

Belaugh

Converted Barn

6 (Barn House), The Street

Belaugh

House

8 (Grange Farmhouse), The Street

Brundall

Waterside Chalet

Chalet at Brundall Gardens Marina

Brundall

Waterside Chalet

39 Riverside Estate

Buckingham

Drainage Mill

Buckingham Ferry Drainage Mill

Calthorpe

Drainage Mill

Calthorpe Randall's Mill

Catfield

Drainage Mill

Barton Broad Drainage Mill

Catfield

Drainage Mill

Middle Marsh Drainage Mill

Coltishall

Waterside Chalet

Boatshed Coltishall Common

Coltishall

Waterside Chalet

Kiosk Coltishall Common

Fleggburgh

Drainage Mill

St Margaret's Mill

Fritton

Railway Bridge

Waveney Forest Railway Bridge

Fritton

Firing Range

Waveney Forest Firing Range

Hickling

Waterside Chalet

Green Day Hut

Hickling

Waterside Chalet

Green Boathouse (on same plot as Green Day Hut)

Hickling

Waterside Chalet

The Boathouse

Hickling

Waterside Chalet

The Moorings

Hickling

Waterside Chalet

The Studio

Hickling

Waterside Chalet

Whiteslea Lodge

Hickling

Drainage Mill

Hickling Broad Drainage Mill

Horning

Waterside Chalet

Ashcroft

Horning

Waterside Chalet

Birch and Jada

Horning

Waterside Chalet

Bishop's Mill Bungalow

Horning

Waterside Chalet

Bonnington

Horning

Waterside Chalet

Box End

Horning

Waterside Chalet

Garden House

Horning

Waterside Chalet

Harnser Lodge

Horning

Waterside Chalet

Heron Lodge

Horning

Waterside Chalet

Langton

Horning

Waterside Chalet

Plot 24

Horning

Waterside Chalet

Plot 26

Horning

Waterside Chalet

Plot 28b

Horning

Waterside Chalet

Romany

Horning

Waterside Chalet

The Dutch Cottage

Horning

Waterside Chalet

Time and Tide

Horning

Waterside Chalet

Willow Fen

Horning

Waterside Chalet

Wiluna

Hoveton

Waterside Chalet

Leisure Hour

Hoveton

Waterside Chalet

Saltash

Hoveton

Waterside Chalet

The Beehive

Hoveton

Drainage Mill

Hoveton Marshes Dydall's Mill

Irstead

Waterside Chalet

Ice House

Ludham

Waterside Chalet

Mands

Ludham

Drainage Mill

Boardman's Mill, How Hill

Ludham

Windpump

Clayrack Windpump, How Hill

Ludham

Drainage Mill

Ludham Bridge North Drainage Mill

Ludham

Drainage Mill

Ludham Bridge South Drainage Mill

Ludham

Drainage Mill

Womack Water Drainage Mill

Martham

Waterside Chalet

Sukie

Martham

Waterside Chalet

Winsome Meed

Norton Subcourse

Drainage Mill

Norton Marshes Boyes Dyke Drainage Mill

Norton Subcourse

Drainage Mill

Norton Marshes Drainage Mill

Oulton Broad

Waterside Chalet

Thatch End

Potter Heigham

Waterside Chalet

Down River and Garden Structure

Potter Heigham

Waterside Chalet

Dutch Tutch

Potter Heigham

Waterside Chalet

Idleways

Potter Heigham

Waterside Chalet

Mill View

Potter Heigham

Waterside Chalet

Rosemary Cottage

Potter Heigham

Waterside Chalet

The Eel Sett

The Holt and Boathouse

Potter Heigham

Waterside Chalet

64 (Towerview)

Reedham

Drainage Mill

Reedham Ferry Drainage Mill

Repps with Bastwick

Waterside Chalet

Thatched Cottage with boathouse

Sea Palling

Steam Engine House

Lambrigg Steam Engine House, Waxham

Smallburgh

Drainage Mill

Fen Lane Manor Farm, Moy's Mill

Smallburgh

Pill Box

WWII Pill Box and spigot mortar emplacement, Wayford Bridge

Smallburgh

Pill Box

WWII Pill Box and spigot mortar emplacement, Wayford Bridge

Smallburgh

Pill Box

WWII Pill Box and spigot mortar emplacement, Wayford Bridge

Somerleyton

Drainage Mill

Somerleyton Marshes Drainage Mill

South Walsham

Waterside Chalet

Cygnus Boathouse

South Walsham

Waterside Chalet

The Boathouse 1a

South Walsham

Waterside Chalet

The Loft

Stokesby

Mill and Cottage

Old Hall Mill and Cottage

Strumpshaw

Engine House

Strumpshaw Engine House

Upton

Drainage Mill

Upton Marshes Palmers Mill

Wheatacre

Steam Engine House

Black Mill Steam Engine House

Wroxham

Waterside Chalet

Cobwebs and Waterside

Wroxham

Waterside Chalet

Closeburn

Wroxham

Waterside Chalet

Ennerdale

Wroxham

Waterside Chalet

Greenbanks

Wroxham

Waterside Chalet

High House

Wroxham

Waterside Chalet

Staithecote

Wroxham

Waterside Chalet

Sheerwater

Wroxham

Waterside Chalet

Southover

Wroxham

Waterside Chalet

The Glade