Outdoor swimming
When the weather is warm it can be very tempting to go for a swim in the Broads. This is potentially very dangerous without the benefit of support from an open water swimming organisation. The Broads Authority strongly advises against entering the water unless part of an organised event.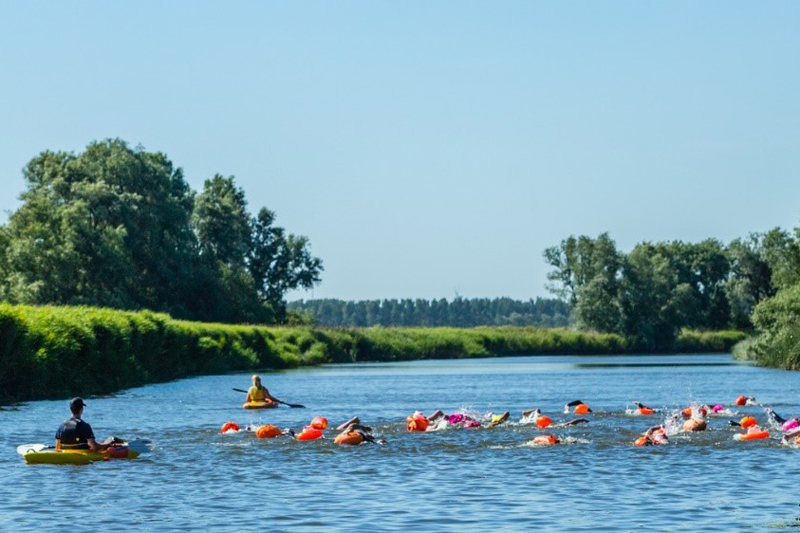 Open water swimming is a growing activity in the UK and with over 120 miles of waterways, the demand to swim within the waters of the Norfolk and Suffolk Broads is continually increasing.
However, while recognising benefits to the health and well-being of participants, a balanced assessment must be undertaken as swimming in the Broads carries numerous risks:
Cold water shock can cause involuntary gasp reflex and cold incapacitation even in summer. Jumping in can cause you to involuntarily breathe in under water or to hyperventilate and panic. Staying in cool water too long can cause your muscles to lose power and make swimming and getting out of the water difficult, both of which can lead to drowning.
There are a number of risks from water-borne diseases if you enter the Broads' waterways. A blue-green coloured scum on the water can indicate the presence of toxic bacteria in the water. Do not paddle in areas where this is present and avoid coming into contact with or ingesting it as it can lead to a number of unpleasant symptoms.
Weil's disease (also known as Leptospirosis) is a rare form of a bacterial infection that is carried by animals such as rats and cattle. It can be caught by humans through contact with animal urine through contaminated fresh water. You can reduce the chance of contracting the infection by covering open wounds, minimising the swallowing of water, showering soon after swimming or if you have fallen in, and washing your hands before eating or drinking.
You can see where storm overflows discharge untreated sewage into rivers on the Rivers Trust's Sewage Map. Our advice is to avoid entering the water in these locations if we have recently experienced heavy rain. When heavy rain occurs, sewers can discharge directly into rivers, increasing the possibility of infection or disease if you enter the water in these areas.
Hypothermia can be caused by getting too cold and not warming up fully after swimming. If swimming outdoors, consider wearing a wet suit, always enter the water gradually, know where you can get out, don't stay in too long and remember to try and get warm quickly. More information can be found at the Outdoor Swimming Society website.
Strong tidal currents in the Broads rivers can cause fatigue and make exiting the water very difficult. Anyone considering swimming should only do so if they know their capabilities, check the tides and plan exit points carefully.
Water weeds/plants are common throughout the broads and are an important part of the river system. These are high risk to swimmers and can cause entanglement. We strongly advise not to swim in areas with a high density of water plants, however if you find yourself caught it is important not to panic and to swim downstream using your arms only.
Deep mud can cause difficulties and swimmers should avoid shallow water at all times.
The presence of hidden obstructions under the water can cause serious injury and swimmers should take care entering the water and never dive in.
Blue Green Algae can be present in the water when conditions are right. Whilst some blue green algae may not harmful, it is not advisable to enter the water where any blue green algae is present.
Visibility in the water is something swimmers must also be aware of. The Broads is very busy with boats all year round, but especially through the summer season. If you are swimming in a wetsuit, it is very hard to spot you from a boat. If you are thinking of swimming in the rivers, we highly recommend you wear a bright swimming hat and use a tow float to ensure you are easily spotted at a distance and boat users can make sure they allow you enough room.
Swimmers may also be tempted to enter the river using the safety ladders located on Broads Authority moorings. This is a very dangerous place to enter the water as vessels will be constantly manoeuvring to either come alongside or move out into the river.
We encourage anyone looking to swim in the Broads to contact an organisation like Tri-Anglia who successfully organise and deliver open water swimming events within the Broads.
If you are thinking about organising your own open water swimming event, then please contact our waterways team.
There is more detailed advice available through the National Water Safety Forum, the River and Lake Swimming Association and the Swimming in Tidal Rivers and Estuaries.
Organising events
If you are planning an organised swimming event please see our events guidance web page for more information on how to proceed.