Broads Authority issues autumn and winter safety reminder
While the Broads continues to attract large numbers of visitors, the Broads Authority has issued Autumn advice to help visitors stay safe on the Broads during cooler, wetter weather.
Anecdotal reports suggest this summer has been one of the busiest tourist seasons ever experienced within the family of National Parks and the Broads is no exception.
The Broads Authority has been delighted to see so many first-time boaters, paddlers, walkers and cyclists in the Broads and anticipates the Autumn will continue to be busy.
Ahead of this weekend's weather warning of rain and wind and as we head into the cooler, wetter weather of autumn and winter, the Authority has issued some important safety advice for all visitors to the National Park.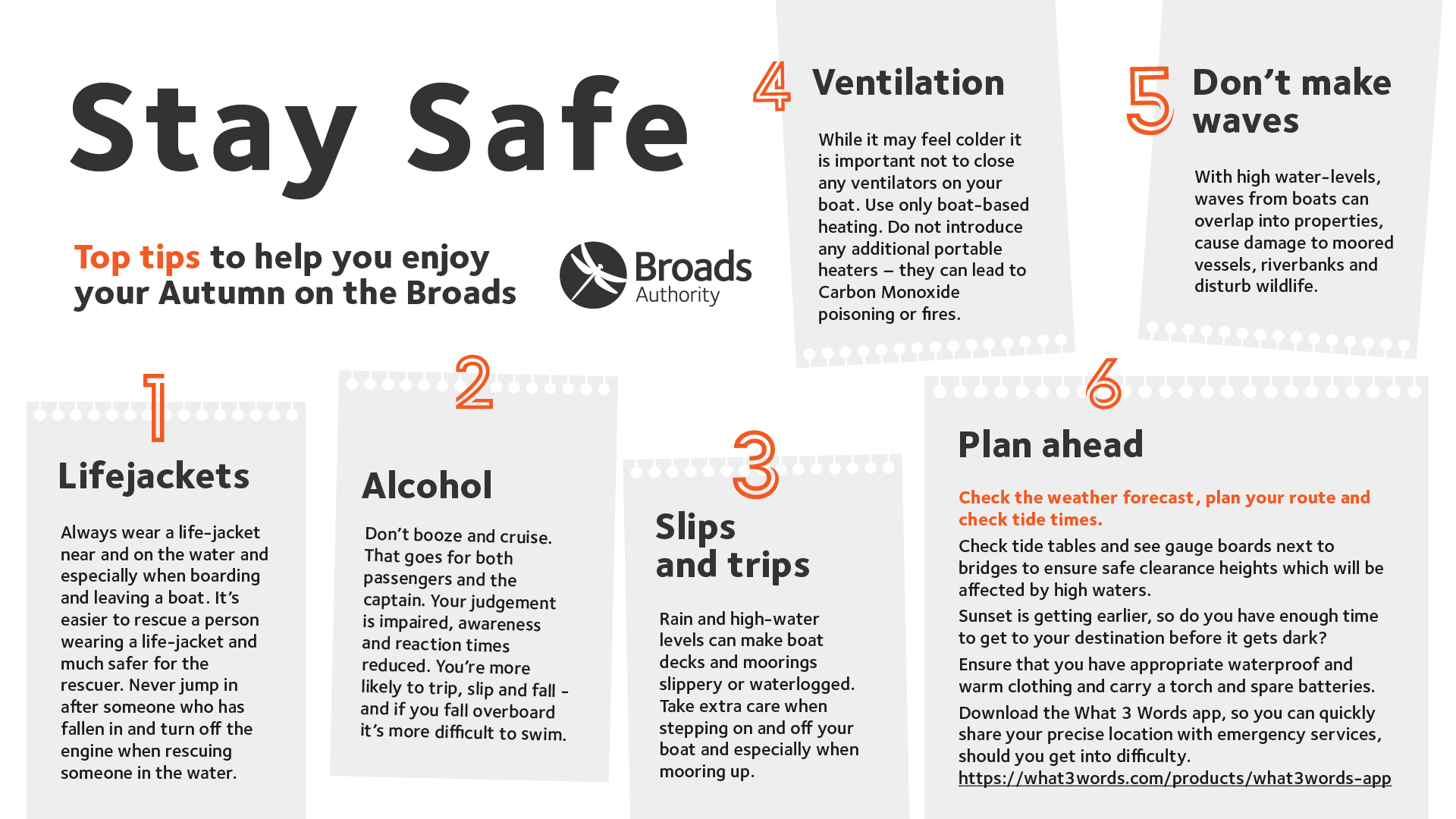 Life jackets
Wear a life jacket and be careful near and on the water. Always wear a life jacket when boarding and leaving a boat, as well as while it's underway. It's easier to rescue a person wearing a life jacket and much safer for the rescuer. Never jump in after someone who has fallen in and turn off the engine when close to someone in the water.
Slips and trips
Rain and high-water levels can leave boat decks and moorings very slippery or waterlogged. Always take extra care when stepping on and off your boat and especially when mooring up.
Ventilation
While it may feel colder it is important not to close any ventilators. Use only boat-based heating. Do not introduce any additional portable heaters – they can lead to Carbon Monoxide poisoning or fires.
Don't make waves
With high water-levels, wash from boats can overlap into properties, cause damage to moored vessels, riverbanks and disturb wildlife.
Alcohol
Don't booze and cruise. That goes for both passengers and the captain. Your judgement is impaired, awareness and reaction times reduced. You're more likely to trip, slip and fall - and if you fall overboard it's more difficult to swim.
Plan ahead
Before you set off, check the weather forecast, plan your route and check tide times. Remember that sunset is getting earlier, so do you have enough time to get to your destination before it gets dark? Ensure that you have appropriate waterproof and warm clothing and carry a torch and spare batteries.
Download the What 3 Words app to find, share and save your precise location. This can help emergency services locate you should you get into difficulty. https://what3words.com/products/what3words-app/
Bridges
Check tide tables and see gauge boards next to bridges to ensure safe clearance heights. Until 31 October, during working hours, bridge pilots are on hand at Potter Heigham and Wroxham bridges to assist boats to pass under bridges safely.
Need advice?
For advice on crossing Breydon Water, tide times and navigating bridges, please contact our friendly team at Great Yarmouth Yacht Station on 07766 398238.
To report obstructions in the navigation (fallen trees and branches), speeding boats and to contact our Ranger Team, call Broads Control on 01603 756056 or email Broads.Control@broads-authority.gov.uk
To report antisocial behaviour, contact BroadsBeat on 101, ext 1235 or 1236 or email: broadsbeat@norfolk.pnn.police.uk
In an emergency the Coastguard can be called on 999.
Follow us on social media for regular updates:
We advise anyone who hires a boat on the Broads to follow safety advice here: https://www.broads-authority.gov.uk/boating/navigating-the-broads/safety
Monday 5 October 2020