Broads Authority Rangers celebrated this World Ranger Day
Saving wildlife, herding deer across the river, rescuing tourists who fall in the water and tackling invasive plants – it's all in a day's work for a Ranger working in the Broads National Park.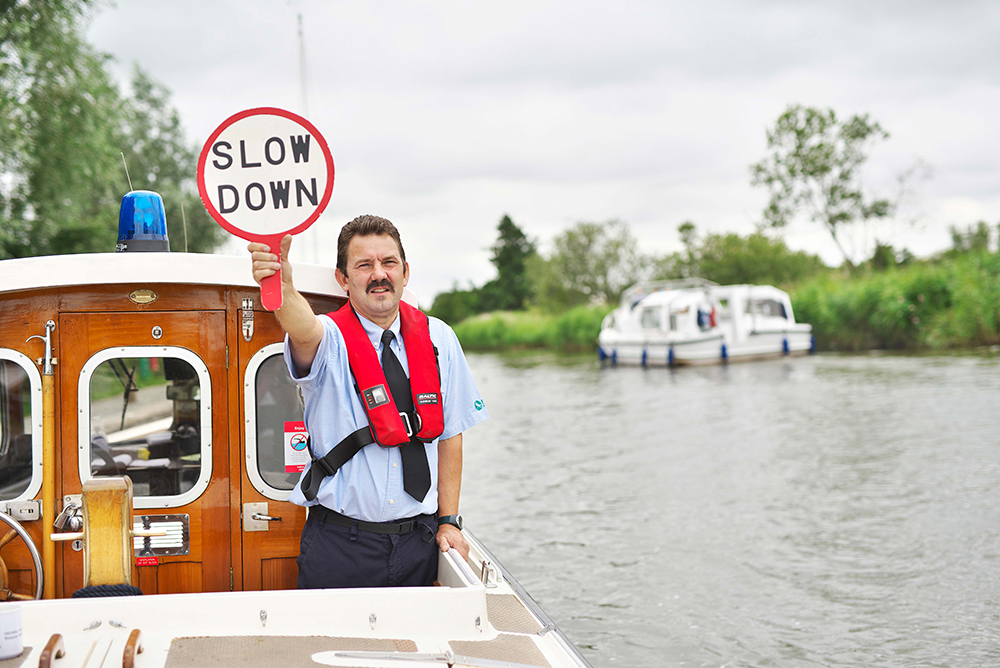 This World Ranger Day (31 July) we are joining in the global celebrations and recognising the great work of Broads Authority Rangers, who look after the 125 miles of rivers and Broads.
Get to know them better and find out some of the incredible work that you didn't realise they do.
The coveted role of Ranger is seen by many as a 'dream job', typically attracting hundreds of applicants to every vacancy. But finding someone with the skills and experience necessary to become a Ranger is harder than you might think.
The Broads receives over 7 million visitors each year and Rangers help to make sure that those who head to the water stay safe. There are currently 12 full-time Rangers who patrol the Broads, with five summer seasonal Rangers, two winter seasonal Rangers, one Ranger Apprentice and many Ranger Volunteers.
Safety patrols on the water account for around 60 per cent of Rangers' work and they frequently assist with emergencies when visitors get into difficulty. Both novice and experienced boaters can quickly get into trouble if navigating in bad weather, strong currents or on large stretches of open water such as Breydon Water near Great Yarmouth.
While it is impossible to cover all the tasks that Rangers undertake, last year (June 2019 to June 2020) Broads Control, who handle phone and radio calls from the public, dealt with 34,599 calls, which often Rangers responded to.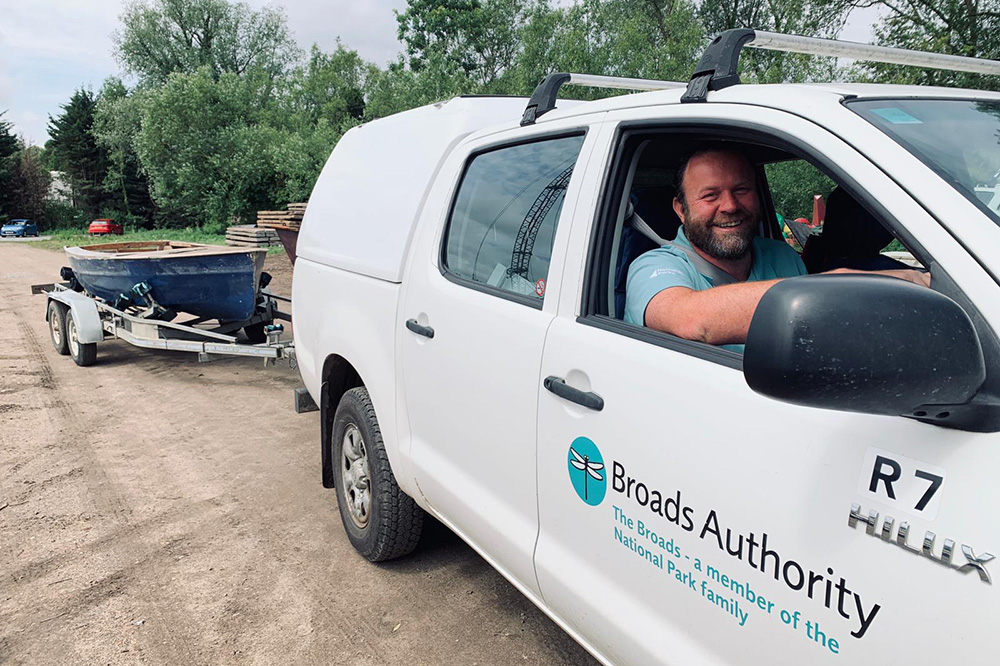 Of these calls:
16 people were reported to have fallen in the water,
there were 15 sunken boats,
20 pollution reports investigated,
27 reported injuries and illnesses (including broken bones, dislocations, cuts & bruises, head injuries and medical emergencies),
61 fallen trees were dealt with,
and 93 hazards to navigation were removed from the river.
As well as enforcing speed limits on the Broads, helping to reduce boat wash and making sure that vessels navigate safely, Rangers play a vital role in educating people about important navigation and issues on land, such as how to moor up safely. During the tourist season they attend events and answer questions from members of the public about the local area and tourism.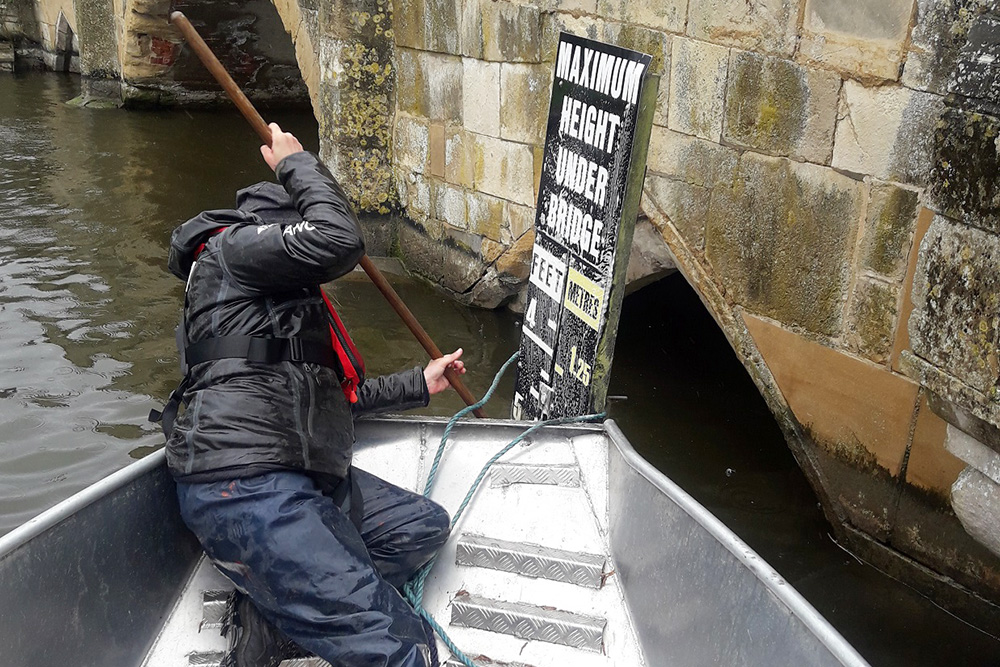 But it isn't just hanging out on boats, cruising along patrolling the water. Most Rangers start the role with a good knowledge of the Broads and nature conservation.
Rangers need to know first aid, how to use a radio, boat handling, responding to oils spills, and countryside management, as well as practical skills such as how to use a chainsaw and a brushcutter (a powerful type of strimmer).
During lockdown, Rangers were busy working behind the scenes to make sure that the Broads' infrastructure was safe for boaters and visitors to return to. They carried on-site riverbank checks and maintenance to some of the Authority's moorings and pathways. Often this is not glamorous work, such as scrubbing away goose droppings from moorings and removing dirt and slime from tide-level tables in rivers. Other maintenance work includes clearing navigable rivers of hazards, rubbish and obstructions such as hoovers, floating mats of reeds, trees and plants.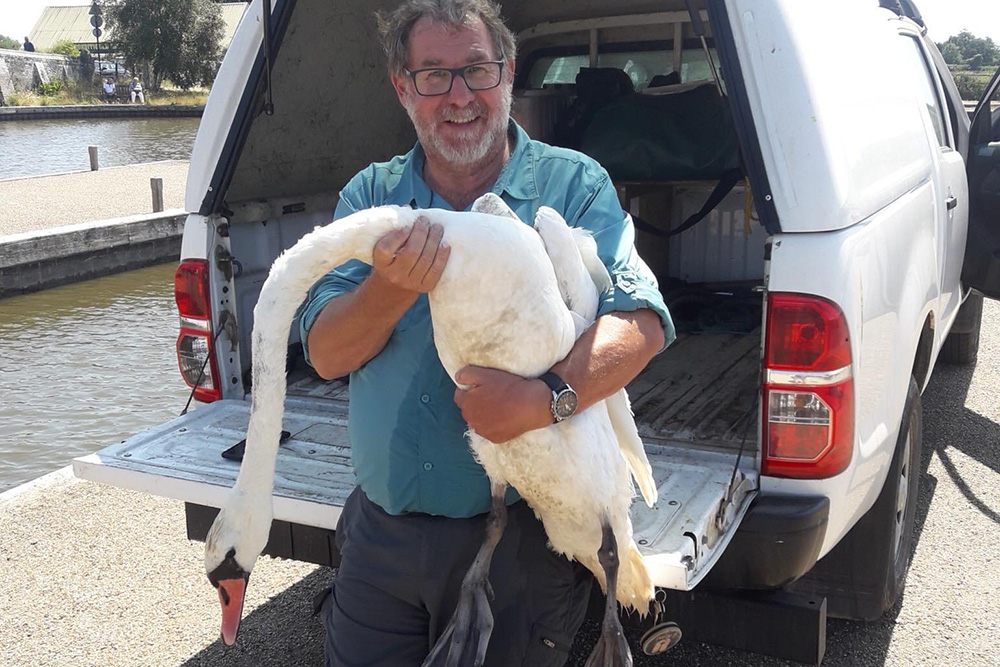 A few things you can expect to see in a typical day in the life of a Ranger (all of these things actually happened!)
Removing a pike lure and hooks from a cygnet.
Squirrels trying to climb up from the river into the patrol launch (boat).
Having to chase and catch a pet rabbit that had been left on an island.
Watching bats swimming.
Seeing a nuclear submarine at New Cut in Reedham.
Removing a pike hook from a fisherman's foot.
A few of the less common objects retrieved from the water
A false leg, which was thankfully reunited with its owner.
The lower half of a display mannequin.
A fridge, armchairs, porta-loos and a dead deer.
An action man cork screw.
A wallpaper pasting table and tins of paint.
A bag of dumbbells from a house burglary.
And some of the most daring rescues
A father and son who fell in the water at Great Yarmouth and were then swept out on the tide.
Assisting the fire brigade in responding to houseboat fires.
5 people rescued from a sunken sailing vessel in freezing conditions.
A barn owl caught in a fishing line, rescued with a canoe and a long pole.
Rescuing some exhausted grass snakes who had taken a wrong turn onto Breydon Water.
A drowning squirrel, scooped up and rescued in a bucket.
A cow which was trapped out on the river, rescued by gently pushing it towards the bank from inside the patrol launch.
Saving a group of drunken men swimming with inflatables who were stuck amongst lots of hire cruisers.
A hire vessel, heading out to sea on a very strong tide at Great Yarmouth, saved with throwing ropes out from the bank.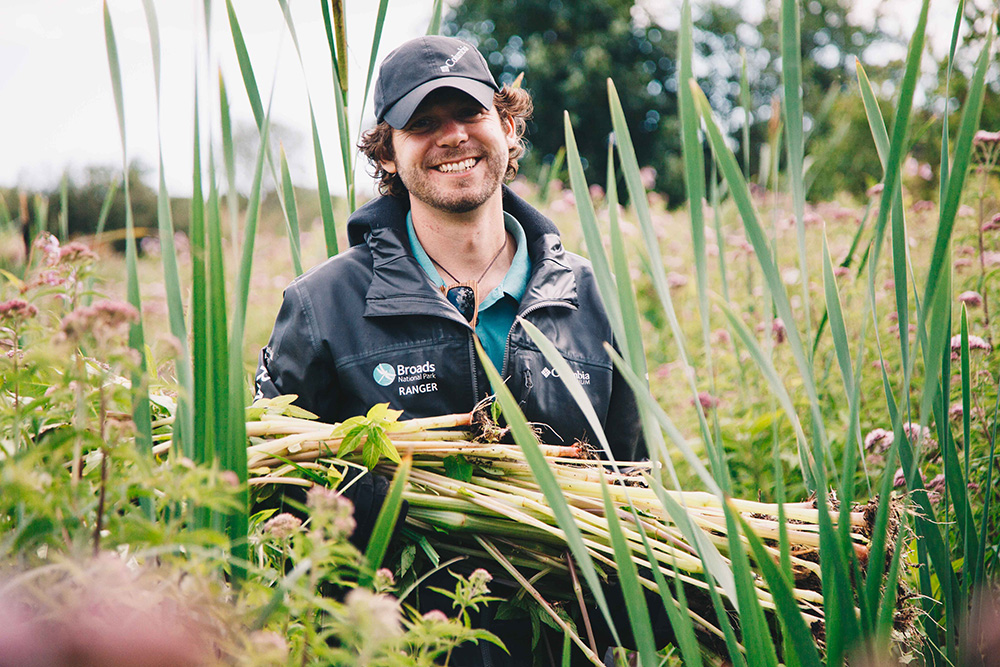 While the summer is busy for assisting visitors to keep them safe on the Broads, in winter, Rangers manage the countryside sites around the water. This includes riverbank surveys of trees and vegetation, checking the health of trees, carrying out tree surgery at the top of giant trees, where necessary. The landscape of the National Park requires constant maintenance and conservation work.
Tobi and Matt were at Wroxham Island and explained why they have to remove invasive Himalayan balsam plants and also, why they became Rangers.
"Every time I close my eyes I see it!" said Tobi. "It's an invasive species and where it grows it outcompetes other plants, so pulling it out is a never-ending job. We have to wear clothes thick enough to keep thorns and stinging nettles out. It must be removed by hand ensuring you get the roots out, without snapping the stem. If we miss any, when it dies off in winter the banks are left more exposed to erosion."
Rangers and Volunteers have been removing this pesky invader on Wroxham Island for the last 10 years, which has had great results for biodiversity. The likes of plants and herbs such as Hemp-agrimony, Rosebay willowherb have flourished again and attracted with them, rare insects and butterflies.
Tobi grew up kayaking with his grandparents on Hickling Broad. "Now I enjoy sharing it with others and passing on this love of the Broads to my children. It's great to know that I'm helping to protect this special place and looking after this area for future generations."
His favourite part of the role is "being able to experience the incredible diversity of the Broads' landscapes and get completely immersed in nature and wildlife."
And the downsides? "There are days when it's really tough… But even on a freezing, wet winter's day out clearing trees in the marshes – it's still ok.
"It can be a challenge when it's really busy on the Broads, with lots of boats to look after and so many people to help. But even then, knowing that you've helped, is always a really satisfying feeling" said Tobi.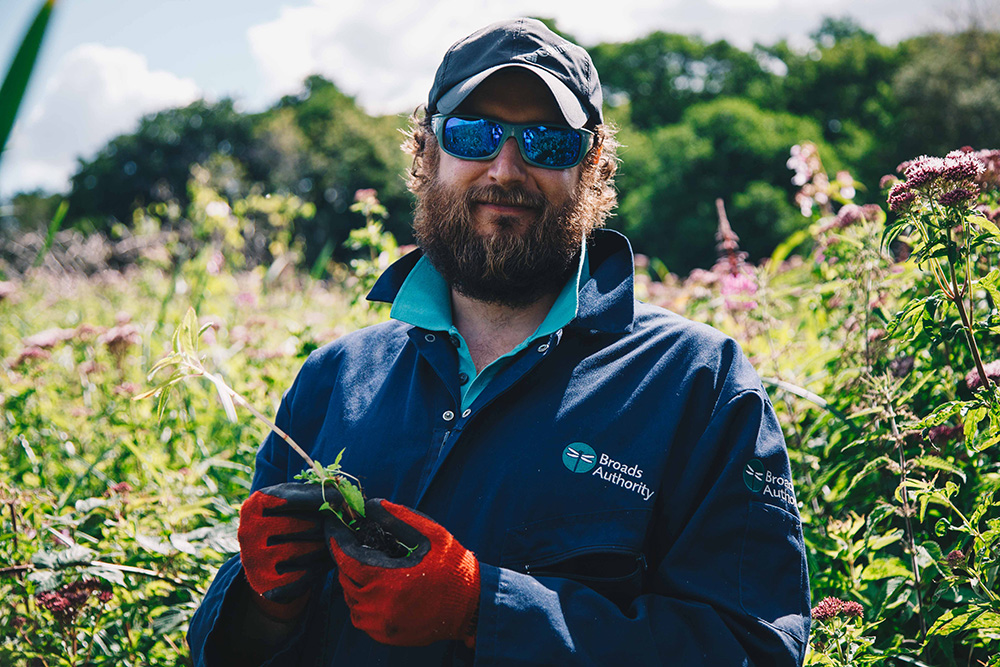 Matt has sailed, canoed and kayaked throughout the Broads as a child. He was inspired by encounters with wildlife to become a Ranger and growing up watching wildlife and natural history programmes, including Gentle Ben and Terry Nutkins on the Really Wild Show. He then volunteered with the National Trust and has been with the Authority since 2002.
Describing what he loves about his job, Matt said, "I'm still always mesmerised by otters as they glide into the river.
"I enjoy communicating about nature on guided walks with schools and watching children's amazement as they learn outside, such as seeing the lifecycle of dragonflies.
"Also, knowing that you've made a difference to people by helping them to understand this precious ecosystem, and why it is managed this way is very satisfying."
"Saving the day for people in trouble on the water always leaves you with a good feeling too."
If members of the public want to contact the Broads Rangers please phone Broads Control on 01603 756056 or VHF channel 12 or email Broads.control@broads-authority.gov.uk. Broads Control is manned between the hours of 9am and 6pm during summer, and 9am and 5pm during winter.
Friday 31 July 2020