History of the Broads Authority
The Authority celebrated its 30th anniversary in 2019 and has achieved a great deal over that time to preserve this special place.
But when the Broads Authority was set up in 1989 the Broads was a very different place. The rise of the tourism industry and the use of phosphates by farmers and in sewage treatment were seriously affecting the biodiversity of the area.
As far back as the 1950s much of the Broads had become cloudy, reed banks were eroding and unmanaged fen was turning to scrub.
In 1967 the Nature Conservancy Council (now Natural England) published a report about Broads degradation followed in 1976 by a study published by the Norfolk Naturalists Trust (now Norfolk Wildlife Trust).
The Countryside Commission (now also Natural England) took up the case and urged the local authorities in Norfolk and Suffolk to provide proper management for the area in order to halt and, if possible, reverse the decline.
An organisation to manage the Broads was established in 1978 made up of representatives from local authorities. It was funded by the authorities along with 50% grants from the Countryside Commission towards staff and projects, and contributions from other bodies including water and navigation authorities.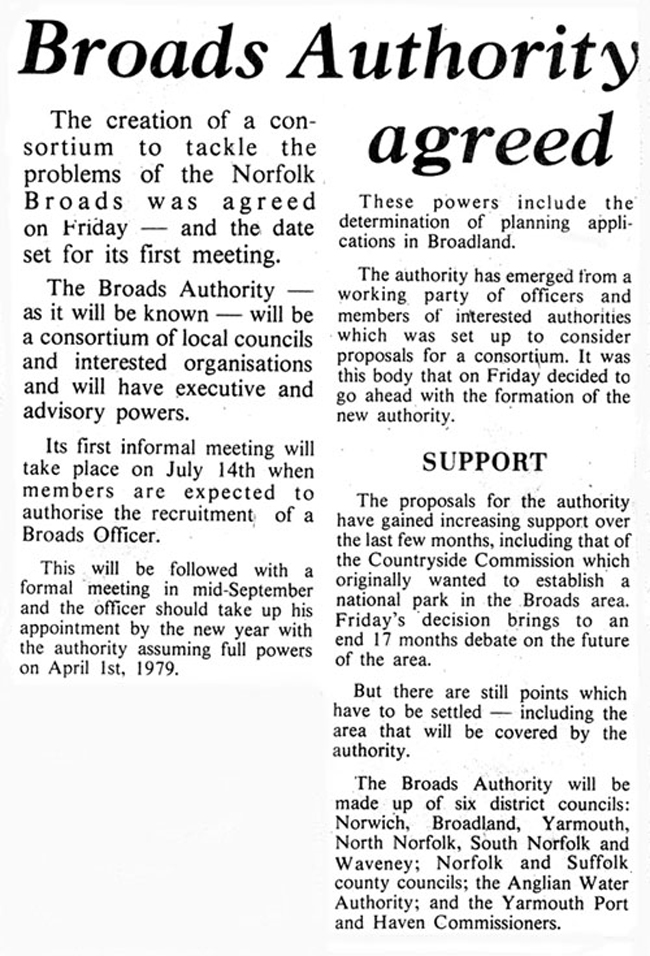 The original Broads Authority was faced with the task of instituting a plan for restoration. A programme of research and experimental management led to the restoration project at Cockshoot Broad. Links were set up with the tourism industry and three information centres built along with Toad Hole Cottage Museum.
After five years the non-statutory Broads Authority was the subject of a review by the Countryside Commission which concluded that the Broads should be looked after by one body with adequate powers and resources to manage both land and water. This led to the passing of the Broads Act 1988.
It was set up through the Norfolk and Suffolk Broads Act of Parliament in 1988 and began operating as a Special Statutory Authority the following year. In passing the Act the Government recognised the Broads as having the same status as a national park.
Popular in About us
You might also like