Farming Projects

WaterLIFE/WWF/Coca-Cola Water Sensitive Farming Project 2016-2018

Water Sensitive Farming (2016-2018) is a collaborative project to benefit both farmers and the environment by improving agricultural soil and water management throughout much of East Anglia. It is being delivered locally through the Broadland and Cam & Ely Ouse catchment partnerships using private, third sector and European investment.
The aim is to keep soil, nutrients and water in the field and away from the surrounding river system, enhancing farm productivity and watercourse quality. The focus is on 'on-the-ground' action and relationship building.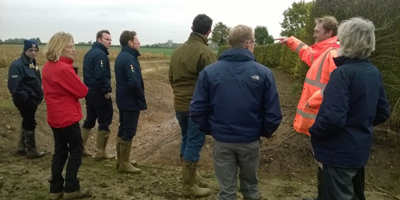 WaterLIFE, an EC-funded LIFE project, and the WWF-UK and Coca-Cola Freshwater Partnership have funded Norfolk Rivers Trust to employ farm advisers to work with farmers to: improve land use over 3000 acres; install 15 silt traps; and engage greater than 1000 farmers in each catchment between 2016 and 2018.
Matt Philpot from Norfolk Rivers IDB explains silt trap design to farmers at the November 2016 workshop.
Tesco Water Sensitive Farming Project 2017

As part of its commitment to source responsibly, Tesco is also funding a Water Sensitive Farming project during 2017. By working in partnership with the Broads Authority as well as farmers in the Broadland Rivers Catchment, Tesco hopes to improve water and soil quality whilst helping farm profitability.
The project is encouraging the use of new and innovative technology, raising awareness of the protection of waterbodies, and linking growers with funding sources.
For example, Tesco has funded the purchase of a 'BE Wonder Wheel' that is being offered to growers to trial for free (pictured right). This piece of machinery is towed behind a tractor to shape the soil in potato beds and reduce run-off from irrigation and rainfall events.
Additional equipment, such as the 'Earthwake' and 'filter fences', may also be trialled and there may also be further work with outdoor pig producers to look at sediment traps and sub-soiling.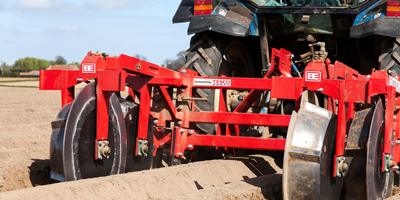 The project builds on historic scientific evidence from Defra funded research that has shown how a range of techniques, especially disruption of tramlines and wheelings, can be cost-effective at reducing soil, water and nutrient losses from fields.
A secondary objective is to encourage the agricultural community and research organisations to further investigate the costs and benefits of new technology at a local level - including the impact on yields, quality and water efficiency. There will be close liaison with the Elveden AHDB SPot Farm East who will also be trialling the Wonder Wheel to share knowledge and learning.
Not only is East Anglia an important sourcing location for a range of Tesco's fresh produce, such as potatoes, the project will provide lessons on approaches and interventions that could be scaled-up in other important sourcing locations.
Further information
Marsham workshop 2017
Salle event 2016
Salle event 2017
For further information, or to book a free visit, please contact:
Neil Punchard, Broadland Catchment Partnership Officer
neil.punchard@broads-authority.gov.uk
07900 266496
You might also like